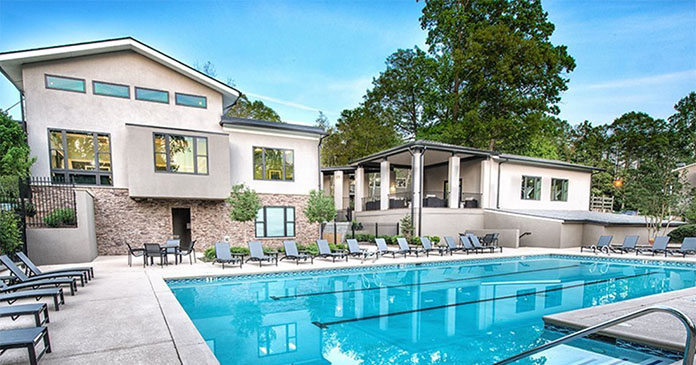 A joint venture of PCCP, LLC, CARROLL and LCOR Incorporated has acquired The Cascade at Morgan Falls and The Fountains at Morgan Falls, adjacent apartment communities located at 8085 Adair Lane and 8075 Adair Lane respectively in the City of Sandy Springs, a submarket of Atlanta, GA.
Originally built in the 1980s, the two adjacent, garden-style apartment assets total 1,180 units and were formerly separated communities with their own set of amenities that are now operated as one. They are spread across 60 two- and three-story buildings on 101.6 acres. The unit mix consists of 550 one-bedroom units and 630 two-bedroom units ranging in size from 742 square feet (sf) to 1,204 sf. Amenities include several pools, three clubhouses, jogging/walking trails, fitness centers, tennis courts, and a car wash, among others.
"This is a compelling opportunity to acquire assets with strong cash flow and upside potential in a high barrier to entry, affluent, and centrally located Atlanta suburb," said Kevin Chin, Senior Vice President with PCCP. "With a strategic, value-add renovation to the individual units, common areas, and amenities, we believe we will be able to help meet demand from area renters seeking a high-quality rental community."
The properties are located off of Roswell Road, which is a four-lane north/south thoroughfare. Residents of the communities benefit from a mix of retail and restaurants up and down Roswell Road and are close to outdoor amenities including walking trails on the properties, city parks and the Chattahoochee River. The properties are located within the Central Perimeter submarket of Atlanta, the MSA's largest employment center which contains over 135,000 jobs within 33 million SF of office space.
The Atlanta metro area is the ninth largest and third fastest growing MSA in the country with 8 percent population growth and approximately 328,700 jobs added over the past five years.