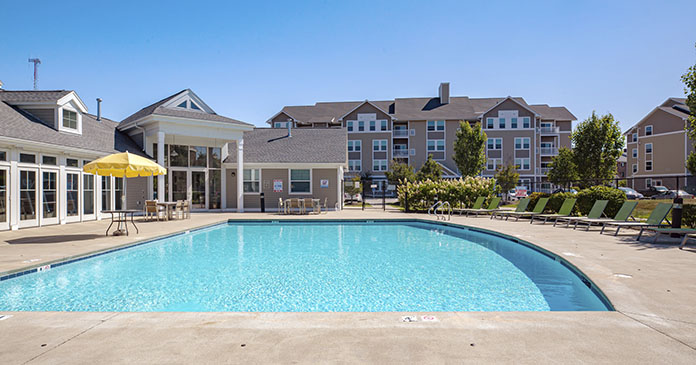 Waterton, a national real estate investor and operator, announced it has acquired Rosemont Square at 2 Chestnut West in Randolph, MA. The 503-unit complex is situated within a 481-acre master-planned community and offers a variety of indoor and outdoor amenities. Comprising 20 three- and four-story buildings, Rosemont Square was built in phases between 1982 and 2012 and is located 10 miles south of downtown Boston, the state's largest employment center. Rosemont Square marks the firm's first acquisition in the Boston metro area.
"We have been watching the Boston market closely for some time and were attracted to the value-add potential, complexity and size of Rosemont Square," said Matt Masinter, senior vice president, acquisitions at Waterton. "Keeping in mind the unique and historic nature of the property, we'll implement our signature value-add program including in-unit upgrades and amenity enhancements to bring the community in line with competing product in the market."
Waterton's comprehensive value-add program will include upgrading select unit interiors as well as hallways and other common areas with modern finishes. Community amenities will be updated with new furniture and fixtures while mechanical, security and landscaping upgrades will bring modern functionality and aesthetic improvements to the property.
The pet-friendly community features a mix of one- and two-bedroom apartments with open floorplans, oversized living areas and newly designed kitchens. Rosemont Square offers an array of amenities including an outdoor pool, grilling stations, picnic areas and multiple playgrounds.
The market, offering a combination of a well-educated population and a strong college university system, is attractive to employers looking to expand in, or relocate to, the Boston market. Job creators like Amazon, Foundation Medicine, Klaviyo, Puma and Google are bringing thousands of high-paying jobs to the metro while the millennial population continues to grow as recent graduates stay in Boston to chase high-paying jobs.
In addition to in-migration, apartment demand is supported by some of the highest home prices across top markets, delaying homeownership for many renters. A healthy demand backdrop combined with an average supply pipeline will help the city overcome short-term struggles brought on by the pandemic, leaving Boston among the strongest gateway markets for intermediate growth potential.
"The Boston market has solid fundamentals, including strong demographic and employment growth further bolstered by rent gains and rapid absorption," said Masinter. "The market has been sought-after as a life science, lab and light industrial hub and, as employers are priced out of areas like downtown and Cambridge, the demand for workforce housing in the city's inner ring suburbs will continue to grow."
Rosemont Square is located 13 miles south of Logan Airport and adjacent to Route 24 and I-93, offering residents excellent connectivity to the major employment hubs throughout Boston. The community boasts nearby shopping options and is proximate to a number of fast-casual dining establishments.