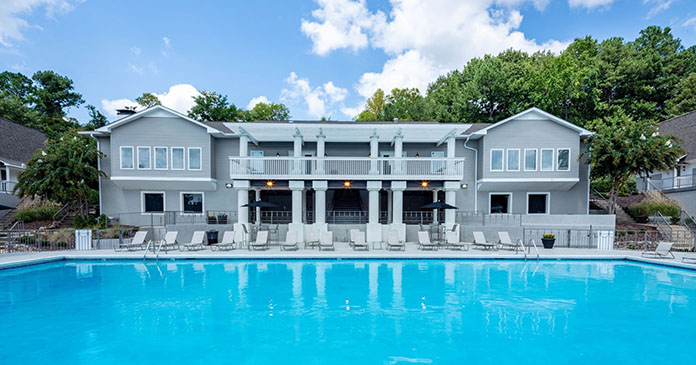 JLL Capital Markets announced that it has arranged acquisition financing and sourced new equity for the Valora at Homewood multihousing property near Birmingham, Alabama.
JLL worked on behalf of the borrower, Brick Lane LLC, to assume the existing 10-year, fixed-rate loan through Freddie Mac. The loan will be serviced by JLL Real Estate Capital, LLC, a Freddie Mac Optigo lender. In addition, JLL secured equity financing from National Property REIT Corporation (NPRC) for Brick Lane. This marks the third deal completed between Brick Lane and NPRC.
The Valora at Homewood apartments consist of 722 one-, two- and three-bedroom units, averaging 1,062 square feet each. Originally completed in 1971, the property underwent renovations from 2016-2019 and offers various community amenities for residents, including a Bark Park and dog spa, playground, tennis courts, two clubhouses, two swimming pools and a fitness center.
The property is located at 915 Valley Ridge Dr. in Homewood, just 15-20 minutes from Birmingham. Homewood is a quaint suburb with various restaurants, retail and boutiques. It's also known for being home to Red Mountain Park, consisting of six acres of beautiful green space, and Samford University, one of the state's top-ranked schools.
The JLL Capital Markets team was led by Senior Director Michael Cosby and Managing Director Jamie Leachman.
"Valora at Homewood is a continuation of the partnership between Brick Lane and NPRC with their third acquisition together," said Leachman. "Additionally, this will serve as an anchor property as Brick Lane enters the Birmingham market as well as taking them to over 3,500 units under ownership."
JLL delivers multihousing investors a full range of solutions through one diverse, integrated platform. The division employs approximately 400 professionals who provide comprehensive investment sales advisory and disposition services with access to thousands of domestic and foreign investors. JLL is also one of the nation's largest affordable and conventional multi-housing and seniors housing lenders with comprehensive loan underwriting, asset management and loan servicing capabilities.
JLL Capital Markets is a full-service global provider of capital solutions for real estate investors and occupiers. The firm's in-depth local market and global investor knowledge delivers the best-in-class solutions for clients—whether investment sales advisory, debt placement, equity placement or a recapitalization. The firm has more than 3,700 Capital Markets specialists worldwide with offices in nearly 50 countries.
Agency/GSE lending and loan servicing are performed by JLL Real Estate Capital, LLC, a wholly owned indirect subsidiary of Jones Lang LaSalle Incorporated.