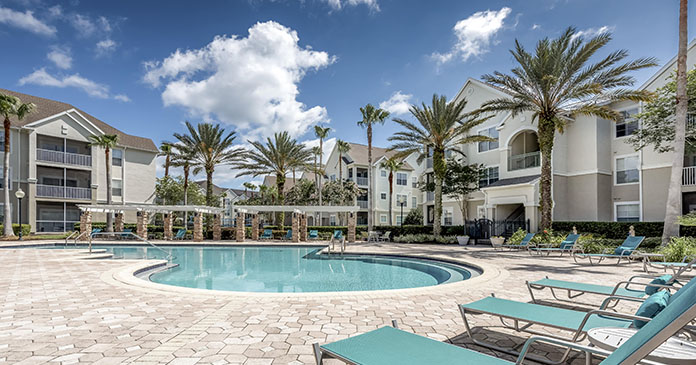 American Landmark Apartments, one of the fastest-growing multifamily owner-operators in the country, has acquired Deerwood Park, a 282-unit multifamily community in Jacksonville. The property will be renamed Eddison at Deerwood Park and will undergo $2.6 million in capital improvements. This is the firm's fourth Jacksonville-area apartment community in their current portfolio.
"Jacksonville has shown consistency in leveraging its multiple industries such as e-commerce and financial technology, creating jobs that attract a talented workforce and new residents to the city," said Christine DeFilippis, Chief Investment Officer at American Landmark Apartments. "With Amazon announcing its ninth confirmed facility and manufacturers like S2A Modular investing in a new facility, Jacksonville retains a job-friendly climate that is expected to grow along with its population."
This year, the company acquired nine multifamily properties, totaling 2,600 units in Florida, Texas and Georgia. The company also broke ground on a $78 million, 365-unit luxury apartment community in Orlando called Deseo Grande.
Joe Lubeck, CEO of American Landmark Apartments, commented "Our industry faced unprecedented challenges in 2020, but our business model has proven resilient and we've been able to use the circumstances as an opportunity to strengthen our team, innovate technologically, and enhance our relationship with residents even further. Throughout COVID, our superior operations platform has continued to deliver strong results despite the pandemic. Our collections have been consistently 97 percent every month, our occupancy has continued to be strong at a portfolio-wide 95.5 percent, our renewals have actually increased, and we've been able to grow rents. We're proud of the hard work done by the entire team to navigate the changing market and deliver American Landmark's goal of high quality investment and management services."
Built in 2001, Deerwood Park is located at 4435 Touchton Road. One-, two- and three-bedroom units include plank flooring, granite countertops, walk-in closets, crown molding and stainless steel appliances. Community amenities feature a fitness center, playground, volleyball court, swimming pool, clubhouse, multi-use room and conference room.
Situated in the strong southside area, Deerwood Park is found near a variety of transit corridors, employment and retail destinations. Interstate 95 is less than 10 minutes away, offering direct access into Downtown Jacksonville.