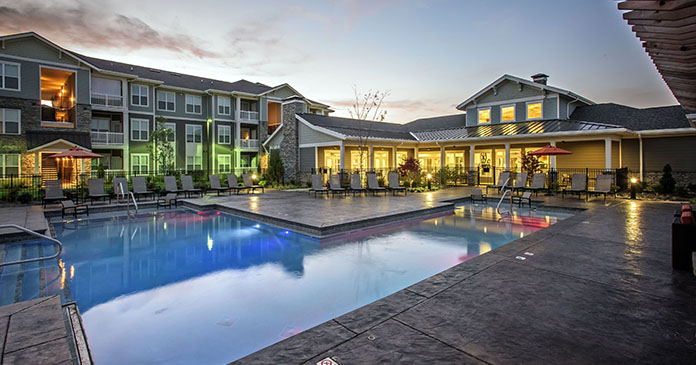 JLL Capital Markets announced that it has closed the $54 million sale and arranged $40.7 million in financing for the luxury garden-style Apex on Preston apartment property in Louisville, Kentucky.
JLL worked on behalf of the seller, a subsidiary of Waypoint Real Estate Investments, to complete the sale to the buyer, The Brookview Companies. JLL also worked on behalf of the buyer to originate the 10-year, fixed-rate Fannie Mae loan. The loan will be serviced by JLL Real Estate Capital, LLC, a Fannie Mae DUS lender.
Apex on Preston was part of Waypoint Real Estate Investments' greater multihousing portfolio currently consisting of 58 properties and totaling 12,682 units in the Sunbelt region across the country with a focus on the Sunbelt region.
The apartments were built in 2015, sit on 14.8 acres, total 304,712 rentable square feet and consist of 312 one-, two- and three-bedroom floorplan options. Unit amenities include front loading washers and dryers, granite countertops, oversize garden tubs, high ceilings and patios/balconies. Community amenities include a car washing area, business center, courtyard, clubroom with TVs and fireplaces, outdoor lounge with grilling areas, resort-style swimming pool and a state-of-the-art fitness center.
Located at 11602 Apex View Dr., Apex on Preston is positioned in one of South Central Louisville's strongest performing submarkets. The property is proximate to various amenities and has immediate access to Preston Highway and Interstates 265 and 65, offering connectivity to Downtown Louisville and the Louisville International Airport. Additionally, the local economy is anchored by the area's burgeoning healthcare, manufacturing, logistics and professional services industries, and is plentiful in its various retail and lifestyle drivers such as the Preston Highway Retail Corridor.
The JLL Capital Markets team representing the seller was led by Executive Managing Director Matthew Lawton, Senior Managing Director Marty O'Connell and Senior Director Wick Kirby. Financing was led by Director Dan Kearns.
JLL delivers multi-housing investors a full range of solutions through one diverse, integrated platform. The division employs approximately 400 professionals who provide comprehensive investment sales advisory and disposition services with access to thousands of domestic and foreign investors. JLL is also one of the nation's largest affordable and conventional multihousing and seniors housing lenders with comprehensive loan underwriting, asset management and loan servicing capabilities.
JLL Capital Markets is a full-service global provider of capital solutions for real estate investors and occupiers. The firm's in-depth local market and global investor knowledge delivers the best-in-class solutions for clients—whether investment sales advisory, debt placement, equity placement or a recapitalization. The firm has more than 3,700 Capital Markets specialists worldwide with offices in nearly 50 countries.
Agency/GSE lending and loan servicing are performed by JLL Real Estate Capital, LLC, a wholly owned indirect subsidiary of Jones Lang LaSalle Incorporated.