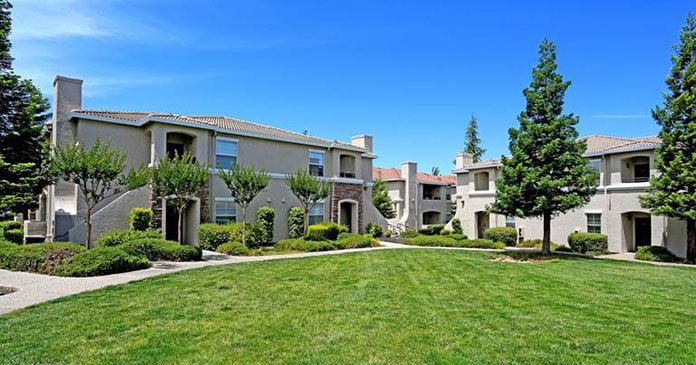 Davlyn Investments, a prominent California multifamily investment firm, recently closed escrow on the $95,000,000 purchase of "The Terraces at Highland Reserve," a 273-unit, luxury, Class A, multifamily community in Roseville, California. The property, which will be re-branded as "Ascent at the Galleria," was constructed in 2002 and is Davlyn's fourth acquisition in Northern California, and its first in the greater Sacramento market. The NGKF team of Mark Leary and Nate Oleson represented the seller.
Paul Kerr, President of Davlyn, described the investment as follows, "Ascent presented an exciting opportunity to acquire a high-quality multifamily asset in a very desirable submarket, with extremely low transaction volume and equally high barriers to entry. As you'd expect with its age, the property has excellent 'bones,' and features nine-foot ceilings, in-unit washers and dryers, built-in fireplaces, modern architecture, barrel-tiled roofs, over 250 detached garages, and an extensive amenity package. In addition, the property is uniquely equipped to navigate the emerging work-from-home environment, with each unit offering at least one built-in desk. Further, every unit is a corner unit, which maximizes natural light and minimizes interplay with neighboring units." He added, "Upon completion of our repositioning strategy, Ascent will offer residents a very reasonable price for finished product that will be on par with brand new, Class A, luxury offerings."
Jon Williams, CEO of Davlyn Investments, stated that, "Increasing living and business costs in the Bay Area are driving households and businesses to nearby Sacramento in droves. Roseville's population growth of 22.2 percent since 2010 bears this out. As is becoming well-known, this trend has accelerated through COVID-19 and the growth of people working remotely. In addition, Ascent lies in an affluent pocket of the submarket, where average household incomes exceed $128,000 within a one-mile radius. The neighborhood features a multitude of high-end retailers, such as Whole Foods, Apple, Best Buy, Marshalls, REI, Bed, Bath & Beyond, and an extensive list of top-notch restaurants. With Folsom Lake and the American River nearby, outdoor recreation is best-in-class. Finally, the property's location near the Interstate 80 and Highway 65 interchange offers residents convenient access to all of Sacramento's employment hubs. Accordingly, this acquisition is consistent with our long-term investment strategy to expand our presence in Northern California."
Ascent at the Galleria follows Davlyn's recent $60 million acquisition of Metro Gateway in Riverside, Calif. Davlyn Investments is a San Diego-based owner/operator of apartment communities throughout California. Since its founding in 1993, the firm has acquired over $1.4 billion in real estate assets. The company is headed by Jon Williams and Paul Kerr.