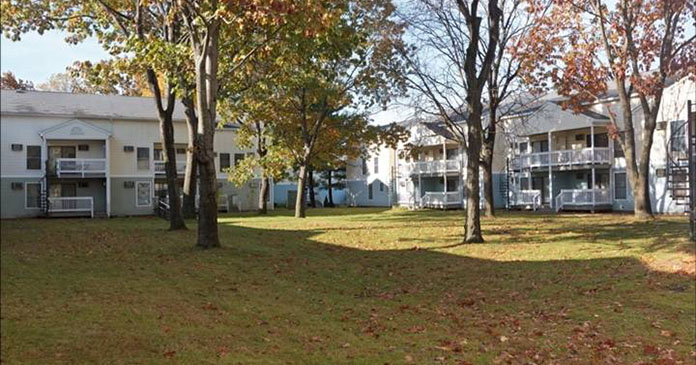 MassHousing has closed on $26.4 million in affordable housing financing to the non-profit Affordable Housing and Services Collaborative, Inc., to support the refinancing and major rehabilitation of the 248-unit Powdermill Village in Westfield.
Powdermill Village was constructed in the 1970s and was last renovated in 2000. AHSC has planned more than $28 million in improvements to substantially rehabilitate the 12 two- and three-story buildings at the property, including one building that was partially destroyed by a fire in April 2018.
"Powdermill Village is an important affordable housing resource but is in need of extensive property improvements," said MassHousing Executive Director Chrystal Kornegay. "We are pleased to partner with AHSC so that the lower- and moderate-income households will see major upgrades to their buildings and homes, allowing them to continue living affordably in Westfield long into the future."
"AHSC and our partner, Peabody Properties, are extremely grateful to MassHousing and DHCD for their support, which will allow a full renovation of Powdermill Village so that the property continues to provide quality affordable housing for families in Westfield," said AHSC Executive Director Michael J. Mattos.
MassHousing is supporting the redevelopment of Powdermill Village with a $14.5 million tax-exempt construction and permanent loan and an $11.9 million tax credit equity bridge loan.
The project is also receiving a total of $18.9 million in federal and state Low-Income Housing Tax Credit (LIHTC) equity financing. The LIHTC syndicator is Boston Financial Investment Management.
The Massachusetts Department of Housing and Community Development (DHCD), which allocated the federal and state LIHTCs, is also contributing $3.6 million in direct affordable housing subsidy. The Affordable Housing Trust Fund, which MassHousing manages on behalf of DHCD, contributed $1.3 million to the project, while the City of Westfield is providing $275,000 in Community Preservation Act and HOME financing.
The transaction also involved approximately $1.7 million in insurance proceeds related to the 2018 fire, a $3.4 million seller loan, and $67,281 in owner financing.
Of the 248 apartment homes at Powdermill Village, 50 are supported by the Massachusetts Rental Voucher Program (MRVP) and restricted to households earning up to 50 percent of the area median income (AMI), 184 units are restricted to households earning up to 60 percent of AMI, eight units are restricted to households earning up to 80 percent of AMI, and six units are rented at market rates. The area median income for Westfield is $77,200 for a household of four.
There are 50 one-bedroom apartments, 148 two-bedroom apartments and 50 three-bedroom apartments.
Among the property improvements planned for Powdermill Village are new roofing, building siding, doors, unit flooring and community space. Balconies and decks, and kitchens and bathrooms will be upgraded, and there will be accessibility improvements, including the addition of two fully accessible units.
The contractor is NEI General Contracting. The architect is The Architectural Team and the management agent is Peabody Properties.