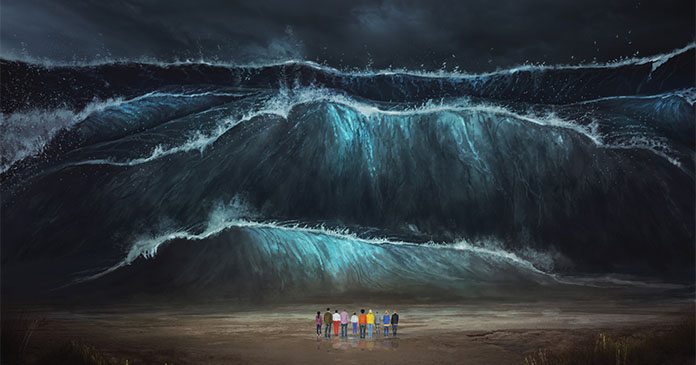 Missed rent payments are stacking up across the country, threatening an unthinkable crisis when eviction moratoriums currently in place expire. To make matters worse, many renters are accumulating massive late fees that compound their total debt. The financial pain has trickled up to property owners as they struggle to pay mortgages and maintenance costs without steady rental income and aren't afforded any protection against foreclosures.
A pandemic and stalled Congress
What happens to these people when eviction moratoriums are lifted? Many renters don't qualify for public emergency funds, and many are still trying to file or appeal unemployment claims. Others were only able to keep paying rent because of government assistance provided until the end of July but now have fallen behind. There are no easy answers as the overwhelming task of figuring out how to repay overdue rent and past-due mortgage payments begins. Many families will face an unmanageable and unrecoverable financial burden as the new year begins.
When government protections and assistance fail to address the underlying problem, private philanthropy and nonprofit organizations are left to help support our communities and offer real longer-term solutions. No matter which prediction is correct—whether it's 10 million people or 40 million people facing eviction in the next six months—too many will be affected.
This very real crisis will reach a tipping point this January for the people who are facing eviction, the property owners at risk of foreclosure, and communities who can't handle one more homeless person let alone thousands of them. Some in the multifamily housing sector have stepped up to help because they know that keeping people housed is the only intelligent and right thing to do financially, socially and morally, but so much more help is needed.
For residents by apartment operators
Resident Relief Foundation (RRF) is a national 501c3 nonprofit organization co-founded in 2017 by Keith Wasserman and Damian Langere of Los Angeles-based commercial real estate investment firm Gelt Inc. They saw firsthand the painful—and often avoidable—consequences of eviction and sought a means to help residents experiencing a temporary financial crisis to avoid eviction and/or becoming homeless.
Over the past three years, RRF has awarded over 130 rental-assistance grants in more than 17 states to help keep responsible residents in these situations. It was slow going at first, since we are a small and relatively new startup organization with a unique approach. In recent months, however, we have received a deluge of inquiries and applications as a result of the crippling effects of the COVID-19 pandemic on renters and property owners alike. As eviction orders continue to mount, requests for our help have grown exponentially.
RRF is committed to helping hard-working people who likely spend more than 30 percent of their income on rent and, on average, have less than $600 in savings. Most live paycheck-to-paycheck. Others have fallen through the cracks of the system, having been denied government assistance or unemployment benefits due to factors such as income level or government inefficiencies with archaic systems. Most importantly, these are responsible people who face even greater loss for their families by the threat of eviction.
Unlike most government assistance programs, RRF has no income limit for applicants. We issue grants to qualified applicants who are facing eviction within 30 days, are unable to pay rent for unexpected reasons outside of their control, have a history of demonstrating they are responsible renters, and have not violated any terms of the lease. RRF also ensures they have taken every step possible to cut unnecessary expenses.
Building solid residents
In addition, a big part of our mission is to empower people with the necessary tools that help them better manage their finances going forward. We are dedicated to making a lasting impact in the resident's life that goes far beyond writing a rent check
As a prerequisite to be considered for aid, the applicant completes an online financial education course; the goal is to prepare and enable them to control their finances and not the other way around. One applicant wrote "I've completed the eVolve Finance Course. I really enjoyed taking this course and have bookmarked it for future learning."
Thirty percent of grantees tell RRF they would have been homeless if not for our assistance. Many live in California cities where the increase in homelessness continues despite billions of dollars being spent on efforts to house people. A significant part of the problem is a lack of housing, a supply-side issue that is not quickly or easily resolved.
There are a variety of estimations of the cost to support the unhoused but many pencil out to about $6,400 per year per person. The average RRF grant is $2,100, representing about 1.5 months of rent. Not only is this one-third less than the cost of supporting a homeless person, but it also is more likely to keep that individual housed, working and a contributing member of society.
The long-term growth and success of RRF are built largely on the support of like-minded companies and professionals involved throughout the real estate community and those who are concerned about the trends across the country.
In response to the potential landslide of evictions caused by the COVID-19 pandemic, we formed The Resident Relief Initiative, a coalition of multifamily industry partners to bring relief to renters across the country.
The Colorado and North Carolina Apartment Associations have each set up partnerships with RRF to raise funds specifically for residents in their states. Colorado started in May and North Carolina just started, but they are well on their way to great success.
They've done an amazing job of getting news and media coverage, and it's a wonderful way to turn around entrenched misperceptions surrounding the landlord-renter relationship. What better way to show that this industry cares than for a management company, property owner, and everyone who benefits from multifamily housing to support a nonprofit who keeps renters in their homes?
If the CDC eviction moratorium expires without a realistic solution in place, the impending wave of evictions could be even greater than what is already being reported nationwide. Moratoriums may help some renters temporarily, but they don't solve the root cause of the issue by providing actual rental assistance, and they do absolutely nothing for property owners facing foreclosure without steady rental income.
RRF depends on the donations of people like you to prevent needless evictions and the potential for a catastrophic wave of homelessness. We are working diligently to raise the millions of dollars required, but in the wake of the pandemic, more help is needed to prevent larger problems that will affect the multi-family housing industry, the economy and our society as a whole.
If we are going to avoid this crisis, we need your help now, more than ever.
---
Author Tina Oswald,  Resident Relief Foundation