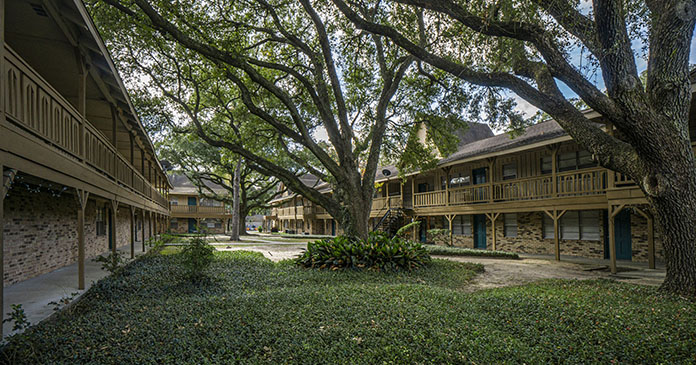 JLL Capital Markets announced that it has closed the sale of the 396-unit Sharpstown Garden Apartments workforce housing property in Southwest Houston.
JLL represented the seller, Pryzant Management, to complete the sale to Indus Management.
The Sharpstown Garden Apartments total 334,150- square feet and consist of one-, two- and three-bedroom units. Ownership had managed the property since 1995 and spent $890,000 in renovations over the last four years, adding significant curb appeal with community amenities that include a clubhouse with fireplace and kitchen, kids community center and three pools with seating.
Located at 7575 Bissonnet St., the property is easily accessible to Downtown Houston and Sugar Land and is just a few miles from abundant retail and grocery options such as Fiesta Mart and ALDI. The property is also within a few miles of Houston's Galleria/Uptown District, which touts a live-work-play environment with over 30.6 million square feet of office space, more than 2,000 companies employing over 83,000 people and 6 million square feet of retail space.
Sharpstown Garden Apartments is located seven miles from Texas Medical Center, which is the largest medical complex in the world and the second largest employment center in the Houston metro. Also, it's proximate to other prominent medical centers and hospitals in Southwest Houston, employing over 33,010 people within a five-mile radius.
Managing Director of Indus Communities, Manu Gupta, M.D., led the purchase of Sharpstown Garden.
"We are excited to revitalize another community and continue our goal of reinventing excellence in the Houston housing market," Gupta explains. "Every person deserves to be happy and proud of where they live, no matter who they are."
The JLL Capital Markets team representing the seller was led by Senior Directors Chris Young and Joey Rippel.
"Stabilized workforce housing continues to be one of the most liquid asset classes in Houston, attracting healthy investor interest this year," said Young. "Sharpstown Garden's buyer pool was indicative of the strong investor appetite for Southwest Houston in particular."
Young continued, "Collections and occupancy both remained on solid footing at the property from March through November. The seller did a great job managing economic occupancy through the pandemic and the buyer will be able to implement a capital plan to increase returns for their investors."
JLL Capital Markets is a full-service global provider of capital solutions for real estate investors and occupiers. The firm's in-depth local market and global investor knowledge delivers the best-in-class solutions for clients—whether investment sales advisory, debt placement, equity placement or a recapitalization. The firm has more than 3,700 Capital Markets specialists worldwide with offices in nearly 50 countries.