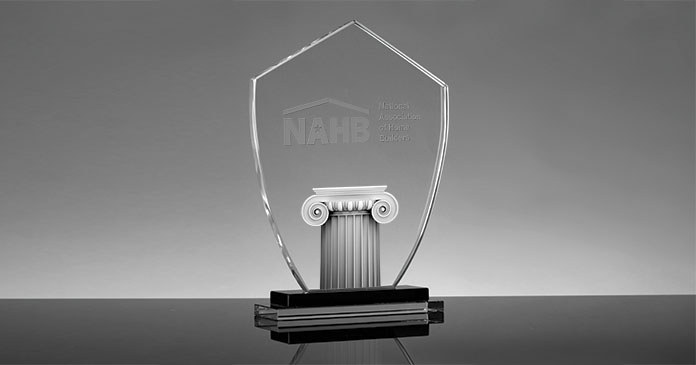 The National Association of Home Builders (NAHB) defines excellence in the multifamily home industry. For over two decades this recognition has noted the "significant achievements in the design, development, marketing and management of multifamily housing."
Award categories target excellence across all product types as well as the functions needed to make a property successful.
The following NAHB Pillars section lists competition finalists, with a feature on one finalist from each broad category: market rate, affordable, green, reuse and other.
Finalists
---
Best High-Rise Apartment Community
10 STORIES PLUS
Liberty Harbor East Baltimore, Maryland
Union Place Washington, D.C.
Union West Chicago, Illinois
West Half, Washington, D.C.
---
Best Mid-Rise Apartment Community
6-9 STORIES
J Malden Center Malden, Mass.
Main & Clay Louisville, Ky.
Vici San Diego, California
Wyndwood 25 Miami, Florida
---
Best Low-Rise Non-Garden Apartment Community
5 STORIES OR LESS
Broadstone Arden Santa Ana, Calif.
J Creekside at Exton Exton, Pa.
Neptune Marina Marina Del Rey, California
Trinity Union Euless, Texas
---
Best Low-Rise Garden Apartment Community
5 STORIES OR LESS
Jefferson Reserve Richardson, Texas
Kirkpatrick Park Nashville, Tenn.
Lakeyard District Lewisville, Texas
Park at Estancia Austin, Texas
---
Best Mixed-Use Community
225 Assay Houston, Texas
J Malden Center Malden, Mass.
The Local Tempe, Arizona
---
Best Affordable Development
UNDER 100 UNITS
Carson Arts Colony Carson, Calif.
The Residences at Career Gateway Cleveland, Ohio
Villas on the Park San Jose, Calif.
---
Best Affordable Development
OVER 100 UNITS
Bluewater & Stella San Diego, Calif.
Jordan Downs Los Angeles, Calif.
---
Best Supportive Services at an Affordable Apartment
Anna Coumou Seattle, Washington
The Residences at Career Gateway Cleveland, Ohio
---
Best in Green Market Rate Multifamily Community
Plaza Verde Irvine, Calif.
Sitka Seattle, Washington
---
Best in Green Affordable Multifamily Community
Third Avenue Development Bronx, New York
San Ysidro Senior Village San Diego, California
---
Best Repositioning/Redevelopment of a Multifamily Community
Camden Dulles Station Herndon, Virginia
Princeton Bradford Apartments Lowell, Massachusetts
---
Best Adaptive Reuse
Prospect Yard Columbus, Ohio
Zephyr San Diego, California
---
Best Student Housing Rental Apartment Community
The Academic and Residential Complex Chicago, Illinois
City Centre Ithaca, New York
---
Best Community Amenities
Jefferson Silverlake Grapevine, Texas
Union Place Washington, D.C.
The Waterline Club New York, N.Y.
---
Best 55+ Multifamily Development
Epoque Golden Apartment Community Golden, Colorado
Revel Lodi Lodi, California
Revel Vegas Las Vegas, Nevada
---
Best Condominium Community
The Bristol West Palm Beach, Florida
Novel Park at Great Park Neighborhoods Irvine, California
Penn Eleven Washington, D.C.
Pocket Neighborhood
Castle Street Cottages East Greenwich, Rhode Island
---
Best Interior Merchandising of a Common Area
The Angela Phoenix, Arizona
Elan Halcyon Alpharetta, Georgia
Best Interior Merchandising of a Leasing or Sales Center
Ascend at Bridges Humble, Tex.
---
Best Interior Merchandising of a Model Unit
The Charlie OC Santa Ana, Calif.
Oleander Brookhaven, Georgia
Three Waterline Square New York, New York
---
Best Overall Leasing or Sales Campaign for a Multifamily Community
Liberty Harbor East Baltimore, Md.
NOVEL Deep Ellum Dallas, Texas
---
Best Property Website
Crimson Houston, Texas
Motif Fort Lauderdale, Florida
---
Multifamily Builder of the Year
McShane Construction Co. Rosemont, Illinois
The NRP Group Cleveland, Ohio
---
Multifamily Development Firm of the Year
The Michaels Organization N.J.
Mill Creek Residential Boca Raton, Florida
---
Property Management Firm of the Year
Bozzuto Management Co. Greenbelt, Maryland
Mill Creek Residential Boca Raton, Florida
---
An award is given to an individual for "accomplishments and commitment to the homebuilding industry." The finalists are:
The One To Watch Award
Demeterio Jimenez, Tropicana Properties, El Paso, Texas
Melanie Trapnell, Gables Residential, Houston, Texas
Winners will be announced early 2021.
---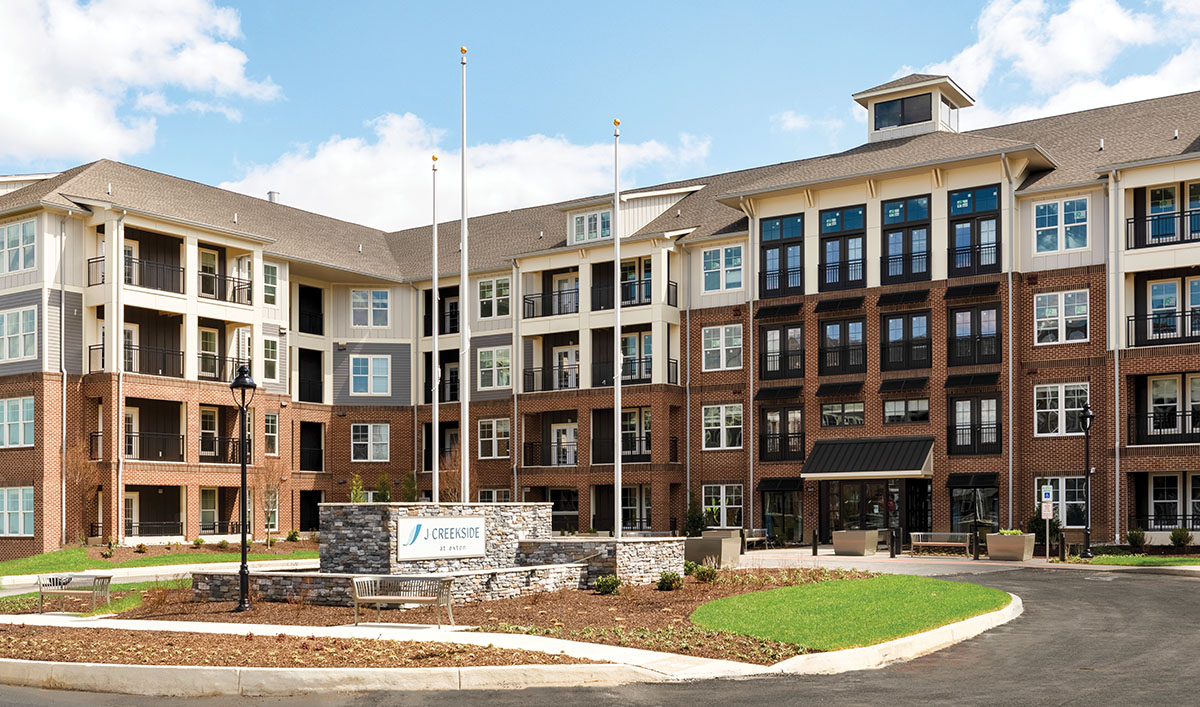 Tough competition for Pillars market rate category
The market rate category is the largest within the NAHB's Pillars' multifamily housing awards and competition is fierce.
Judging for these awards covers not only the quality of a project's unit designs and the appeal of its amenities and common spaces, but also its financial strength and market acceptance.
A finalist in this segment is J Creekside at Exton, a 291 unit community in Exton, Pa., completed in May 2020. The property is located on a previously undeveloped 13 acre site adjacent to Valley Creek and within the Oaklands Corporate Center.
The property spans 4 buildings offering residents 1-, 2- and 3-bedroom floorplans in two design finishes.
The apartment interiors include 9-ft. ceilings, quartz countertops, tile kitchen backsplashes, pendant lighting, gooseneck faucets, shaker cabinetry, stainless steel appliances, built-in pantries, kitchen islands or breakfast bars, plank flooring, glass-enclosed showers, double sinks, full-sized washers and dryers, and walk-in closets.
Most units also include a balcony or patio.
Amenities abound
The interior common areas provide amenities including a large club room with a modern entertainment kitchen and a dramatic hanging gas fireplace, a group fitness and yoga room, a cyber cafe and conference room, two-level children's play room, a video screening room with 90-inch screen and plush lounge chairs. and a game room with wet bar, billiards, poker table, pinball and arcade games.
The property also provides WiFi throughout the amenity spaces, high-speed internet, a 24/7 Amazon Hub package system, garage parking and elevators.
Amenities in the exterior common areas include a resort-style pool with both immersed and dry seating lounge areas, pergolas, gas grilling stations, fire pits for community gatherings, and a dog park with an obstacle course. In addition, a path runs from the property to the scenic Chester Valley Trail alongside Valley Creek
Not only do walkable shopping and dining options for residents exist within the Oaklands Corporate Center, but the property is just a short distance from the Main Street at Exton center.
The Whitford SEPTA park and ride rail station is close by for residents commuting into Philadelphia.
Pillars judges praised the large variety of spacious plans available in this community and the pleasantness of the interior common areas. The community was also cited for the walkability of its location despite being in a semi-rural setting.
J Creekside at Exton was designed by Heffner Architects with interior design by Faulkner Design Group. It was developed by the Jefferson Apartment Group and built by CBG Building Company LLC.
---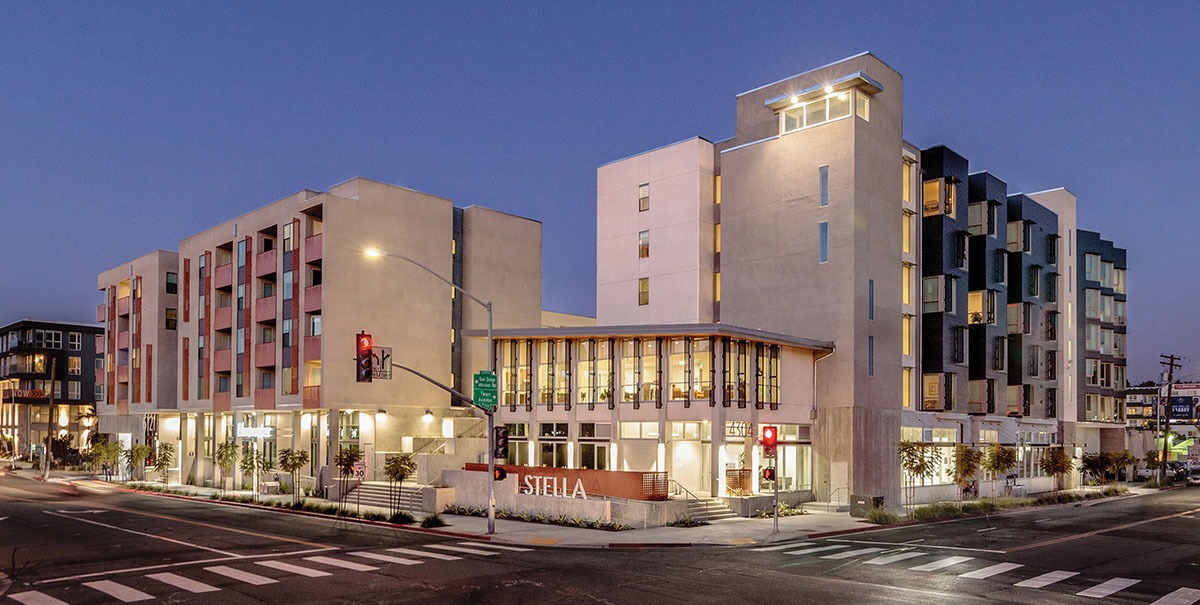 Pillars affordable housing category focuses on more than affordability
The affordable housing category is judged by a broader criteria than is market rate product. This considers that residents are often dealing with more than just low income.
Judging standards take this into account by considering not only design, amenities and financial component of a property, but also the supportive services a property's management offers to its residents.
Bluewater and Stella in San Diego, Calif., is a finalist in this category. This unique development consists of two co-located affordable communities, each addressing the needs of a different resident population.
Bluewater offers 1-, 2- and 3-bedroom units to low income families earning 30-60 percent of area median income (AMI). Stella offers studio and 1-bedroom units. Its residents come from the formerly homeless and special needs populations who average 40 percent AMI.
Plan designs across the two communities include personal kitchens equipped with energy efficient appliances and private bathrooms. The communities include rooftop solar panels to offset some of the residents' utility costs.
Common areas in each community offer a community kitchen, community room, gathering areas, outdoor courtyard open space, and services offices.
Formerly homeless residents in Stella receive services overseen by a case manager. Services include basic needs and employment services programs, as well as benefits enrollment, resumes and job search help, computer and financial literacy training, food assistance, legal clinic, healthcare referrals, and many other services.
Bluewater and Stella is located within the Grantville neighborhood of San Diego. It is within walking distance of the Grantville Trolley Station. It is also within walking distance of restaurants, medical facilities and a grocery store. These apartment communities are surrounded by market-rate apartment communities.
Bluewater and Stella is designed by Studio E Architects. It was developed by Affirmed Housing and built by Suffolk Construction.
---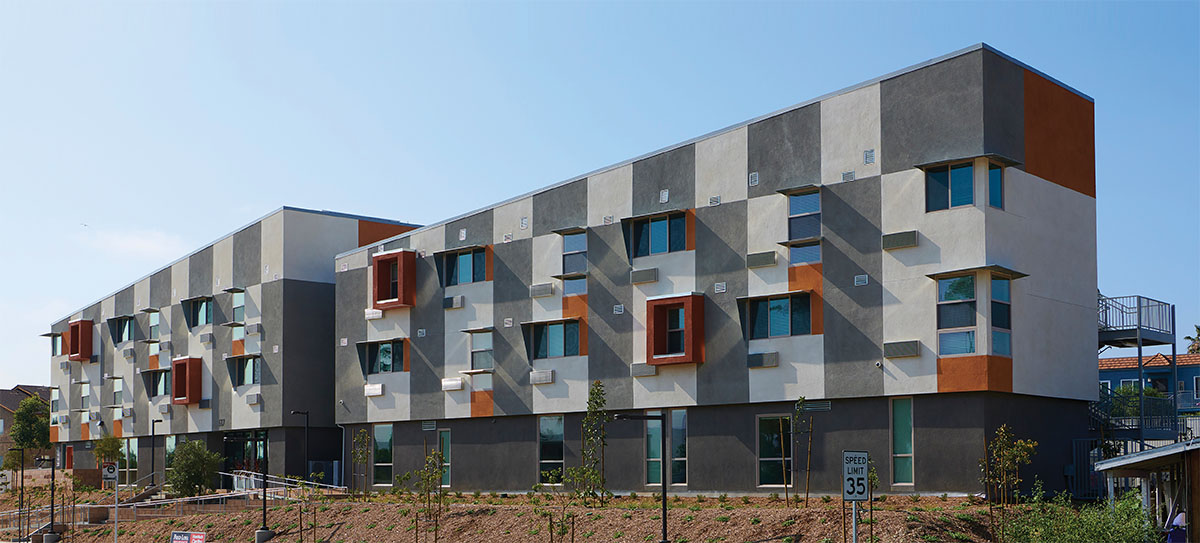 Pillars awards recognize environmental stewardship
Building green is generally viewed as costing more than does standard building. High-efficiency appliances, improved insulation and tighter building envelopes all can add to the cost of construction. Achieving green certification while also delivering a project affordable to low income residents is a double challenge. Finalists in the Best in Green Affordable Multifamily Community category have met the challenge.
San Ysidro Senior Village is a finalist in this category. It provides 51 fully-furnished studio apartments for formerly homeless seniors (55+) in the San Diego area. Residents' incomes are 30 percent or less of the Area Median Income (AMI).
The Village was designed and built with LEED certification in mind. It has a tight building envelope and high quality installed insulation to minimize heat flow. It's high-efficiency appliances and a high-performance HVAC system reduce energy consumption and costs.
It uses low flow water fixtures and high-efficiency toilets to reduce water consumption. A hot water recirculation system minimizes water waste compared to a traditional system where residents would run the water for a period of time waiting for hot water to flow. The building has achieved LEED (v4) Gold certification.
The builders of San Ysidro Senior Village also considered the quality of the indoor environment. They did this by using durable, low-emissive materials in its construction and by providing the residences and common areas with clean, filtered air.
Supportive services offered to residents are provided by several local agencies including The Hope Through Housing Foundation, Casa Familia, Father Joe's Villages and the San Diego County Health and Human Services Agency.
Amenities include a community center with private offices where supportive services are provided, community raised garden beds, an outdoor grilling area, EV charging stations, resident storage lockers, a bicycle storage area and onsite laundry facilities.
The community is convenient to public transportation with a bus stop directly outside the building. Eating and shopping options are within easy walking distance.
One Pillars judge said "San Ysidro Senior Village is an outstanding entry in the affordable, 55+, and green building space. I cannot think of enough superlatives to describe the high level of green building design and performance incorporated in this community." Another judge said, "The project hits all the concerns for designing a proper envelope" and, "The developer should be commended for their efforts to provide affordable and energy efficient and healthy buildings for seniors."
San Ysidro Senior Village was designed by Studio E Architects. It was both developed and built by National Community Renaissance. Its green performance was verified by Raimi & Associates.
---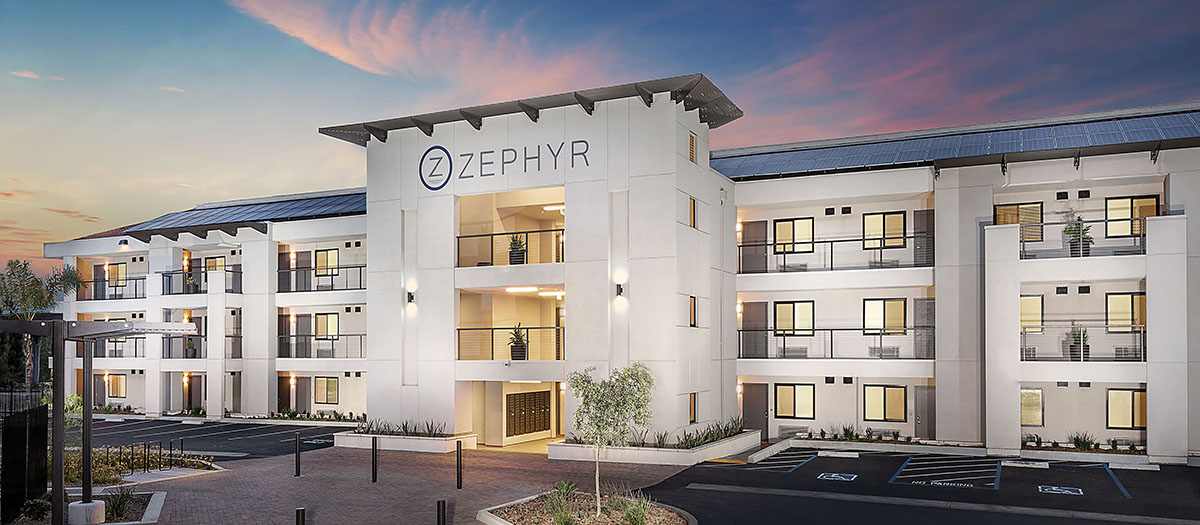 Pillars awards shine light on creative reuse
In order to address the nation's recognized shortage of housing—particularly of affordable housing—attention has shifted to re-purposing buildings that have fallen into disuse. The Pillars Best Adaptive Reuse award recognizes outstanding examples of this adaptation.
A finalist in this category is Zephyr, located in the Grantville neighborhood of San Diego. If that sounds familiar, it may be because Grantville is also the home of Bluewater and Stella, a Pillars finalist profiled elsewhere in this issue. The two communities are located within easy walking distance of each other.
The structures that were remodeled to form Zephyr were an old Motel 6 and an adjacent Denny's restaurant. The Motel 6 was adapted to provide 84 units for formerly homeless veterans and a manager's unit. The Denny's was adapted to become a community center.
The adaptation included modernizing and updating the buildings' infrastructure and was accomplished in about 2 years less time than a complete building replacement would have taken.
Individual units in Zephyr include a bathroom, kitchenette, bed, nightstand, desk and chair. New residents receive "Welcome Home" baskets containing dishware, cleaning supplies, a blanket and other small items.
Services for residents are provided by PATH San Diego. Services include individual case management, multiple classes, health services, and support groups.
In addition, a nearby church supplies ongoing food bank deliveries for residents. Over 60 members of the Grantville community made personal donations of living essentials for Zephyr residents and parishioners of St. Therese Catholic Church donated a handmade blanket to each resident of Zephyr upon move-in.
The Zephyr community center includes a community room with a computer lab, TV lounge, teaching kitchen, shuffleboard, ping pong table, and offices for on-site services.
There is also onsite laundry, a large community garden and trellised seating areas on the property.
One Pillars judge praised the developer's "good sense of vision to see this as viable veterans housing" and noted that "(t)he clubhouse is an awesome feature to include." Another judge commented "What's most impressive with Zephyr is the myriad of resident services provided by the community in addition to housing".
The designer for Zephyr was Basis Architecture with interior design by Affirmed Housing. The developer was Affirmed Housing and the builder was HA Builder.
---
Pillars 55+ communities are rich in amenities
Senior housing is a broad category that encompasses everything from active living communities to assisted living to residential care to memory care.
Applicants for the Pillars Best 55+ Multifamily Development fall into the first category. The finalists are high-end market rate communities with amenities, and services geared for retirees or soon-to-be retirees.
One finalist in this segment is Epoque Golden, a 120 unit community completed in July 2019. The property is located on a 4.2 acre site on the west side of Golden, Colo. The community offers residents a choice of studio, 1-, 2- or 3-bedroom apartment units in a single building.
Apartments are equipped with stainless steel Energy Star appliances, soft-close cabinets, quartz countertops, oversized walk-in closets, full sized in-unit washers and dryers, solid core doors, oversized windows with roller shades and a fob-access entry system. Most units also have either a deck or patio.
Community amenities include a state-of-the-art fitness center, a yoga/barre studio with outdoor meditation deck, a great room with vaulted ceiling and mountain views, a pub and game room with wet bar, a private dining room with adjacent warming kitchen, a reservable conference room, a dog wash and grooming room, a bike repair and storage room, and resident storage.
Outdoor amenities include a lap pool and spa, and a landscaped courtyard with fire pits, grilling and lounge areas.
Resident parking is underground, below the property.
Residents at Epoque Golden have a variety of available services: housekeeping, fitness, educational and cooking classes, socials and gatherings, adventure excursions, dog walking and pet sitting, package delivery and car washes.
In addition to the dramatic surroundings, Golden Colorado offers a wealth of options for outdoor activities, especially hiking and biking. Old downtown Golden is only two miles from Epoque Golden, and downtown Denver is less than 20 miles away.
In evaluating Epoque Golden, a Pillars judge commented it has "(n)ice architecture and quality finishes" and that its "outdoor spaces look inviting and sophisticated." Another noted that "(t)he units are very high end with attention to detail and functionality."
Epoque Golden was designed by The Lawrence Group with interior design by ESG Architecture and Design. The developer was Forum Investment Group and the builder was FCI Constructors of Wyoming, LLC.