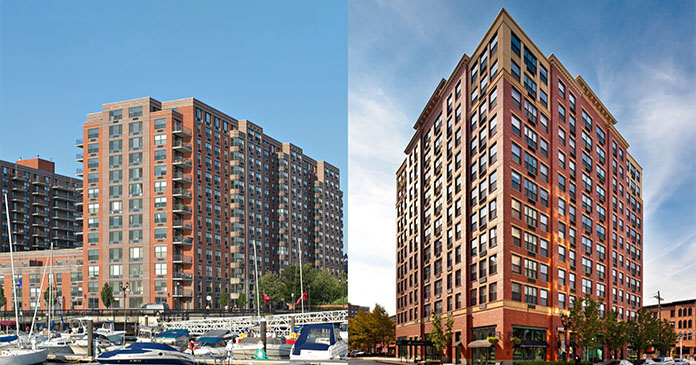 JLL Capital Markets announced that it has arranged $90.5 million in financing for The Vanguard and North Independence multihousing properties in the bustling Shipyard neighborhood of Hoboken, New Jersey.
JLL worked on behalf of Ironstate Development to secure the $84 million, 10-year, fixed-rate loan for The Vanguard and the $6.5 million, supplemental loan for North Independence through an insurance company lender.
Located at 1201 Hudson St., The Vanguard consists of 196 studio, one and two-bedroom apartments. The property also features 37,818 square feet of ground-floor commercial retail space, which is leased to several prominent tenants, including Starbucks. North Independence is located at 1 Independence Court and consists of 185 one-, two- and three-bedroom apartments.
Both properties feature newly renovated apartments with in-unit washers and dryers. Additionally, both properties have luxurious amenities including outdoor swimming pools, a fitness center, an indoor and outdoor children's play area and a sun deck.
Positioned in the Shipyard neighborhood, The Vanguard and North Independence have direct waterfront access with views of the Hudson River and New York Harbor. Just four miles from Manhattan, both properties also have beautiful views of the skyline and are easily commutable to the city via public or vehicular transportation.
The JLL Capital Markets team representing the borrower was led by Senior Managing Director Thomas Didio and Directors Thomas E. Didio, Jr. and Max Custer.
"We are pleased to work alongside Ironstate Development to facilitate the refinance and upsizing of these two prominent multifamily assets in uptown Hoboken," stated Didio, Jr. "The Vanguard and North Independence remain as two of the more highly-desired rental assets in Hoboken, which is testament to Ironstate's proactive management and ownership."
Didio, Jr. continues, "The Life Company financing market showed tremendous interest in these opportunities, even in the face of COVID-19 uncertainty. Ultimately, we were able to structure an accretive debt package that allowed Ironstate to upsize their existing loan on North Independence and borrow new, 10-year fixed rate debt on The Vanguard at historically low rates."
JLL Capital Markets is a full-service global provider of capital solutions for real estate investors and occupiers. The firm's in-depth local market and global investor knowledge delivers the best-in-class solutions for clients—whether investment sales advisory, debt placement, equity placement or a recapitalization. The firm has more than 3,700 Capital Markets specialists worldwide with offices in nearly 50 countries.