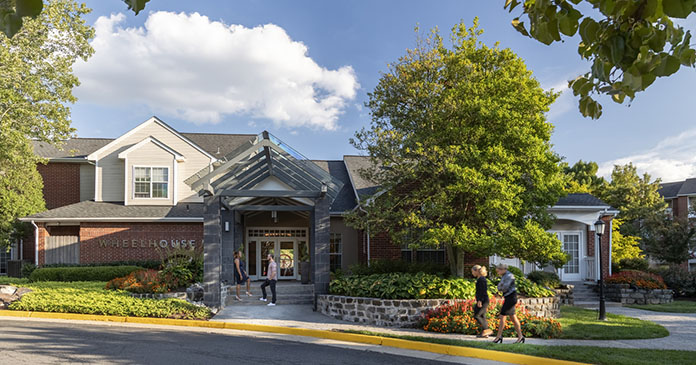 Grosvenor Americas ('Grosvenor'), the privately owned international property group, announces the sale of Wheelhouse Apartments of Fair Oaks ('Wheelhouse'), a 491-unit apartment building at 12105 Polo Drive in Fairfax, Virginia. Grosvenor bought the property in 2014 and invested over $7 million improving the property's amenity spaces and renovating unit interiors to a Class-A finish.
"A strategic objective of Grosvenor's Investment team has been and continues to be acquisitions of apartment communities that we can re-position and enhance in strong markets within the Washington, D.C. region," said Isaac Metzger, Vice President of Investment at Grosvenor Americas. "As we evaluated the market, we decided to sell this property in order to redeploy our capital as we seek new value-add opportunities with like-minded partners across this thriving region."
Grosvenor's local asset management team refurbished the property in 2016. Focused on tenant lifestyle enjoyment, the improvements included: conversions of racketball and tennis courts to a premium fitness center and outdoor amenity space with fire pits, grilling stations and bocce courts, extensive landscape upgrades, and the addition of a new dog park and dog spa. That same year, Wheelhouse won the PACE award for best community.
Eastdil Secured represented Grosvenor in the sale transaction.
"Grosvenor has invested, developed, and managed buildings in the D.C. Metropolitan region for 35 years," said Scott Brody, SVP of Investment at Grosvenor Americas. "This strategic disposition aligns with our growth plan that involves acquiring well-located but under-performing properties with value-add potential alongside select partners in cities that outperform over the long-term."
Improving residential properties with a focus on the environment and community is one of Grosvenor's main activities; the Company has made $1.15bn in residential property acquisitions in Washington, D.C., San Francisco Bay Area and Seattle, acquiring over 4,300 apartments units across these metros since 2004.
Grosvenor owns and operates a mix of residential, office and retail properties throughout the Washington region and has developed some of the District's most notable mixed-use projects including F1RST in Navy Yard, District Apartments in the U Street Corridor, and Central in Silver Spring, Maryland. Last year, the firm acquired two residential development sites: Morse Street in Union Market and City Homes in Eckington, along with two office buildings in Georgetown. Grosvenor also owns 1701 Pennsylvania Avenue, NW and 1500 K Street, NW, both of which have recently undergone sustainability-focused refurbishments.
In December 2020, Grosvenor sold the 226-room Courtyard by Marriott Bethesda Chevy Chase hotel at 5520 Wisconsin Ave and the adjacent retail space. Newmark brokered the sale, which came about due in large part to Grosvenor's financial strength and ability to provide seller financing. Grosvenor had owned the properties in partnership and renovated the hotel in 2008 and 2017.
The Company has $3.8bn of assets under management and a $3.2bn North American development pipeline of which most projects will be targeted, designed, and constructed to LEED Gold standards. Most of these projects are transit-oriented infill in major urban centres, forms of development that encourage low carbon lifestyles by enabling walking, cycling and transit use. Grosvenor takes a socially responsible approach to investment which is based on long-term thinking, creating community, and operating a Net Zero Carbon portfolio by 2030.