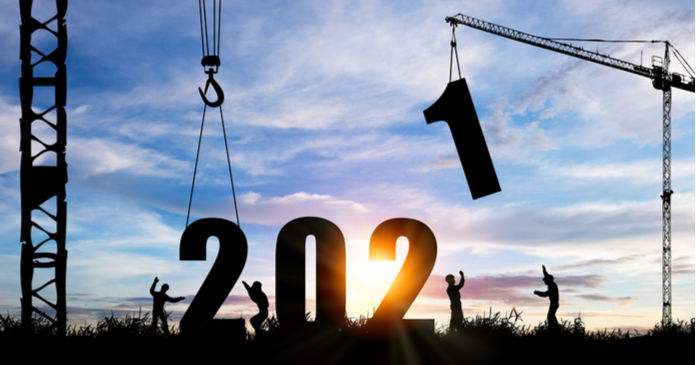 RealPage recently presented a webinar forecasting the likely trends for the multifamily housing market over the next two years. Presenters were Greg Willett, Chief Economist, and Adam Couch, Market Analyst.
The webinar spent significant time reviewing the performance of the multifamily housing market in 2020 in order to set the stage for what they expect to come. Some of this is material that was covered in RealPage's 2020 review, and will not be discussed here. This article focuses on RealPage's view of what lies ahead.
Employment drives the economy
RealPage reported that the recovery of the huge number of jobs lost to the pandemic-inspired shutdowns is only half complete. There are still 9.2 million net jobs that have disappeared from the economy. RealPage based their forecasts for the next two years on the economy recovering 5 million jobs in 2021, mostly in the second half of the year, and another 2 million jobs in 2022.
The apartment industry enters 2021 with overall occupancy running at a relatively healthy 95.6 percent, according to RealPage. By apartment class, occupancy is 94.6 percent in Class A properties, 95.7 percent in Class B properties and 96.3 percent in Class C properties. However, there is a huge pipeline of new product on the way and this is likely to put pressure on occupancy.
The first chart, below, shows the RealPage forecast for new product deliveries over the next two years. While deliveries in 2020 hit a recent high, 2021 deliveries are expected to go even higher, reaching a little over 400,000 units.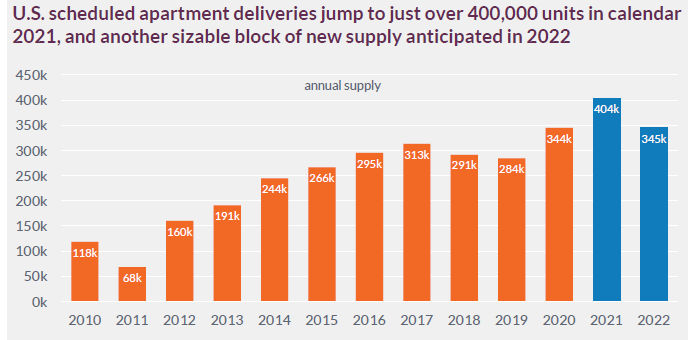 RealPage forecasts apartment demand in 2021 in the 150 largest metros to come in at 307,000 units. This is up from estimated apartment absorption of 296,000 units in 2020 but down from absorption levels of 327,000 units in 2019 and 353,000 units in 2018. Since new product deliveries are forecast to outpace absorption next year, occupancy rates are expected to decline from their recent highs. RealPage's occupancy forecast is shown in the next chart, below.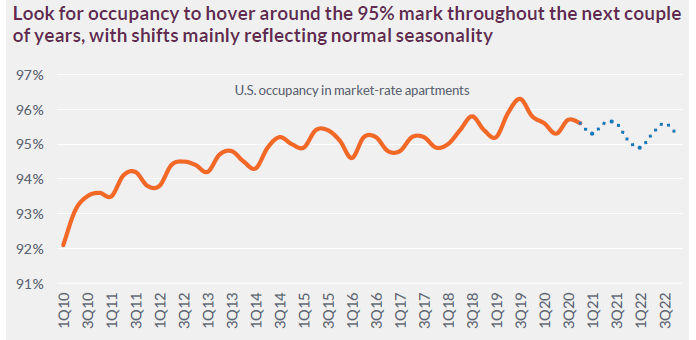 The chart shows occupancy rates exhibiting normal seasonal variations but trending slightly down over the next two years. However, occupancy is expected to remain at healthy levels, around 95 percent, over this time frame.
Generous new supply of apartments and stagnant to declining occupancy is expected to put continued pressure on rents in the near term. The RealPage forecast for rent growth is shown in the next slide, below. RealPage forecasts rent growth to turn positive in late 2021 and to return to pre-pandemic levels by the end of 2022.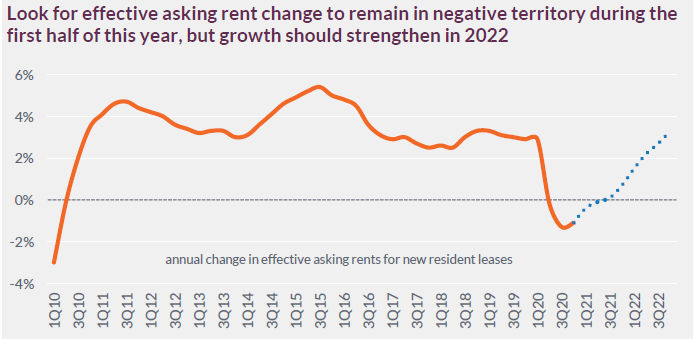 Some metros will struggle
While the above charts provide the 2021 market outlook for the country as-a-whole, individual metros may see different results. Metros where significant new product is in the pipeline, especially where net move-outs have taken place, such as San Francisco and New York, will continue to struggle over the next two years. In fact, RealPage forecasts that 17 of the country's top 50 metro areas will not see a return to 1Q20 rent levels until 2022 or later. In addition to San Francisco and New York, the other metros in this category are San Jose, Los Angeles, Chicago, Boston, Washington DC, Oakland, Seattle, Orlando, Austin, Miami, Houston, Nashville, Minneapolis, San Antonio and Dallas.
RealPage also discussed apartment building sales and cap rates, but the focus was more on recent history rather than on future outlook. Basically, sales volume dipped in the middle of the year but rebounded in the fall. Apartment pricing has held up reasonably well with the national average sales price remaining close to its recent high at $176,000 per unit. Cap rates are at 5.1 percent and are pretty consistent around the country.
In response to a question, RealPage discussed the Las Vegas paradox. Las Vegas is a city where employment was hard hit but where occupancy and rents have gone up. They explained this paradox by noting that Las Vegas also has lots of missed rent payments which will result in evictions when moratoria are lifted. Therefore, the current occupancy numbers are somewhat misleading.
The webinar concluded by stating that suburban markets ought to outperform the urban core and that Class B properties ought to outperform Class A and Class B properties in the near term.
The full webinar discussed other topics and provided information on expected product deliveries to certain urban markets. It is available on demand and can be found here.