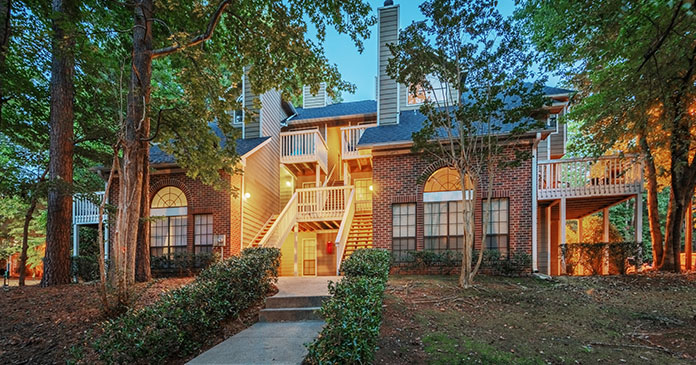 JLL Capital Markets announced that it has closed the $26 million sale of the 168-unit Windemere Apartments in North Raleigh, North Carolina.
JLL represented the seller, Northland Investment Corporation, in completing the sale to the buyer, S2 Capital.
Windemere is a garden-style community that was originally completed in 1990. With 77 percent of units still in true "classic" condition, the property offers attractive value-add upside for the buyer. Proposed unit upgrades include granite countertops in kitchens and bathrooms, new hardware and painted cabinets, stainless-steel appliances, plank flooring and new lighting and plumbing fixtures.
Located in the supply-protected North Raleigh submarket, equidistant to North Hills and Crabtree Valley Mall, the asset is one of the best-located in the entire MSA. Raleigh's leading population growth has put tremendous upward pressure on rents across the market, and with just 450 multihousing units delivered in the last 10 years in this pocket, Windemere is poised for continued revenue growth. Windemere is also located just 10 minutes from key employment hubs, including Downtown Raleigh, which employs over 45,000 people, and Research Triangle Park, employing over 50,000 people.
The JLL Capital Markets team representing the seller was led by Andrea Howard, John Currin, Jeff Glenn, Allan Lynch and Caylor Mark.
Howard says, "Windemere is the quintessential Raleigh value-add asset, with its access to the Triangle's premier employment hubs, differentiated architecture and floor plans, and immense renovation potential. Our team was thrilled to have the opportunity to represent Northland on such a prized Raleigh property."
"North Raleigh has been one of the most consistently resilient and high-growth submarkets in our region and we are excited to have worked with S2 on their first multihousing acquisition in Raleigh-Durham," Currin added.
Northland owns and operates a diversified multi-housing portfolio that includes more than 25,000 units across the U.S. In North Carolina, the firm currently owns Inspire SouthPark and Randolph Park within the Charlotte market.
JLL Capital Markets is a full-service global provider of capital solutions for real estate investors and occupiers. The firm's in-depth local market and global investor knowledge delivers the best-in-class solutions for clients—whether investment sales advisory, debt placement, equity placement or a recapitalization. The firm has more than 3,700 Capital Markets specialists worldwide with offices in nearly 50 countries.