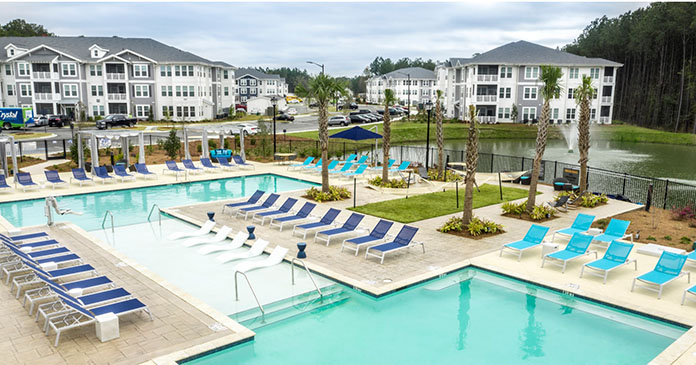 JLL Capital Markets announced that it has arranged $172.9 million in financing for 14 multihousing properties, totaling 1,334 units, located throughout the U.S.
JLL worked on behalf of multiple southern California-based borrowers to originate the 14 uncrossed, 10- and 12-year, fixed-rate Fannie Mae loans. The loans will be serviced by JLL Real Estate Capital, LLC, a Fannie Mae DUS lender.
The loans range from $6.1 to $40.1 million, with five of the 14 loans being acquisition financing to acquire properties located in Boise, Idaho; Pooler, Georgia; and West Los Angeles, San Marcos, Escondido, California. The remaining nine loans were cash out refinances backed by properties located in Bakersfield, Escondido and Sacramento, California; and Portland, Oregon.
All loans were part of Fannie Mae's Green Financing program, allowing the borrowers to obtain preferential pricing and additional loan proceeds by making investments in energy and water efficient retrofits.
The JLL Capital Markets team representing the borrowers was co-led by Director Keith Rosso and Managing Director Marc Schillinger.
"We are extremely thankful to our clients who trusted us to navigate them through 14 separate and interconnected loan closings during a period of market volatility," comments Rosso. "Thanks to the swiftness of our underwriting and closing teams, we're thrilled our borrowers were able to quickly close and lock in historically low interest rates."
Schillinger notes, "We have seen a trend of clients cashing out or selling some of their urban infill assets to purchase multi-housing properties in suburban California submarkets and out-of-state where there is greater affordability as residents continue to work-from-home and seek lower cost alternatives to gateway markets. The ability of JLL to manage multiple closings on strict timelines and in various states is a testament to the power of the national JLL Capital Markets platform."
JLL delivers multihousing investors a full range of solutions through one diverse, integrated platform. The division employs approximately 400 professionals who provide comprehensive investment sales advisory and disposition services with access to thousands of domestic and foreign investors. JLL is also one of the nation's largest affordable and conventional multihousing and seniors housing lenders with comprehensive loan underwriting, asset management and loan servicing capabilities.
JLL Capital Markets is a full-service global provider of capital solutions for real estate investors and occupiers. The firm's in-depth local market and global investor knowledge delivers the best-in-class solutions for clients—whether investment sales advisory, debt placement, equity placement or a recapitalization. The firm has more than 3,700 Capital Markets specialists worldwide with offices in nearly 50 countries.
Agency/GSE lending and loan servicing are performed by JLL Real Estate Capital, LLC, a wholly owned indirect subsidiary of Jones Lang LaSalle Incorporated. Loans made or arranged in California are pursuant to a California Financing Law license.