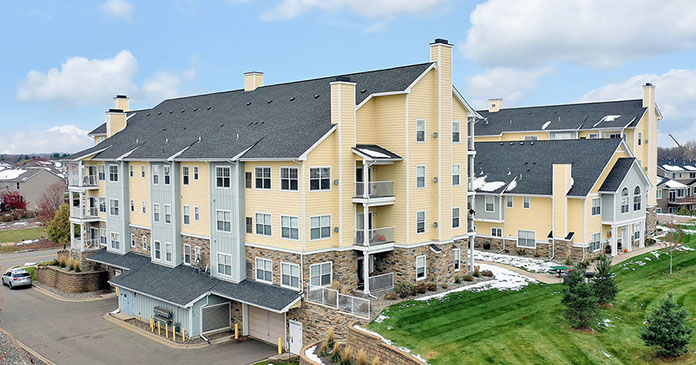 JLL Capital Markets announced it handled the $8.725 million sale of the 38-unit Regency Hill Apartments located in Woodbury, Minnesota, part of the Minneapolis-Saint Paul metropolitan area.
JLL represented the seller, Bigos and Williams-Regency Hill, LLC, in completing the sale to the buyer, Premier Storage.
The Regency Hill Apartments are 97 percent occupied and consist of one- and two-bedroom floorplan options. The townhome-style units include a dishwasher, gas fireplace and contain a patio or balcony. Community amenities include barbecue picnic areas, a courtyard and heated underground parking.
The apartments are located at 10751 Retreat Lane and proximate to various trails, with Woodbury containing 3,100 acres of parks, lakes and outdoor recreation. In 2020, Woodbury was ranked a "Best City to Live In" in the U.S. due to its economic stability, growing housing market and reasonable cost of living. Additionally, Woodbury has direct regional access to other prominent areas such as the Historic Stillwater, Afton Alps and Lake Elmo Park Reserve.
The JLL Capital Markets team representing the seller was led by Mox Gunderson, Josh Talberg, Dan Linnell and Adam Haydon.
"Regency was originally developed as a condominium project in 2006 and therefore had larger more unique floorplans than most multifamily layouts," Gunderson said. "The smaller boutique size of the project drew interest from both local and out of state investors, ultimately trading to an exchange buyer."
JLL Capital Markets is a full-service global provider of capital solutions for real estate investors and occupiers. The firm's in-depth local market and global investor knowledge delivers the best-in-class solutions for clients—whether investment sales advisory, debt placement, equity placement or a recapitalization. The firm has more than 3,700 Capital Markets specialists worldwide with offices in nearly 50 countries.