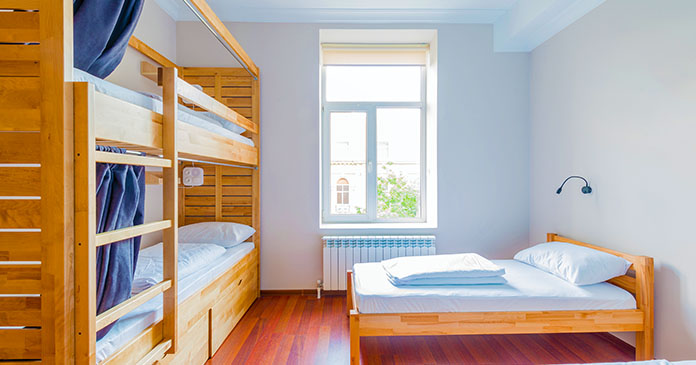 College enrollment generally skyrockets in diametric opposition to tumbling GDP, meaning student housing is, in theory, a recession-proof asset class. There have been different factors at play during this pandemic-spawned economic downturn, so is that adage proving to be the case this time around?
First, it's important to consider the recent strides that this sector has taken. The U.S. student housing stock currently hovers around 1.5 million beds. With new properties delivering at a clip of 50,000 beds per year, one-third of that total supply came online just in the past decade.
A relatively nascent asset class
"When I went to college in the late '90s at the University of Michigan, purpose-built student housing didn't exist," said Jason Schwartz, managing principal, Blue Vista Capital Management. "It's one of the only asset classes that I know of in real estate, aside from maybe data centers, that really didn't exist 20 years ago. This is an asset class that's been built in front of our eyes."
Students have inelastic demand for housing adjacent to large, tier-one campuses which is why, despite the vigorous development activity, the industry was enjoying a 95 percent occupancy rate pre-COVID. There was—and in all likelihood, still is—significant unmet demand for the asset class.
Chicago-based Blue Vista is a real estate investment firm focused, in part, on the student housing sector. Along with their affiliate student housing management company, Atlanta-based Peak Campus, they act as owner, operator, property manager, developer and fiduciary for institutional capital into the student housing space.
"We are kind of a one-stop shop, as it relates to being both the group that raises the capital from institutional investors and then actually operates those individual assets on the ground," said Schwartz.
Blue Vista's student housing portfolio, and the industry on whole, have performed far better than anyone would have predicted last March. When in-person classes ceased, there was concern that the revenue stream would dry up. According to Schwartz, approximately 60 percent of Blue Vista residents stayed in place. However, rent collection from March through July was more 95 percent.
Preleasing with so many unknowns
Another concern was preleasing for the 2020-21 academic year. Most student housing operators price their beds akin to the airline model—the sooner you commit, the cheaper rate you pay. That strategy proved troubling in the midst of a global pandemic when schools were unsure of how they were going to address the coming year and with students wavering on whether they were going to move out of their parents' homes just to log onto Zoom classes.
In the end, Blue Vista properties pre-leased at about 90 percent of capacity for the 2020-21 window. While that's a few percentage points below where they would be in a typical year, it's nowhere near the horror show that many feared.
"If you would have told me In March or April that we'd be at 90 percent, and that we would be growing rent by 2 percent year over year, I would have said you were crazy," Schwartz said.
The international constituency
One issue that cropped up during the pandemic was international students. Though they only account for between 5 and 6 percent of total U.S. enrollees, recouping rents from theses students, should they default, is much more difficult than from domestic students who typically cannot sign a lease without a parental guarantee.
Consider, for example, Campus Circle at the University of Illinois. Located just blocks from the school's Grainger College of Engineering, it is highly reliant on Asian and other international students attracted to the notable institution. Macro political issues as well as travel restrictions meant that many of these international students ended their 2019-20 leases early and/or pre-leased for 2020-21 in fewer numbers.
So how can properties such as this one backfill those lost residents? For one, universities that require freshmen to live on campus in dorms for their first year let them out of that obligation once the pandemic clamped down. Some of these students opted to take residency in purpose-built student housing, as did upperclassmen who were no longer traveling abroad.
Blue Vista's investment thesis is straight forward. They opt for deals averaging roughly $25 million of equity and above—those that are too big for high-net-worth investors but too small for Wall street megafunds. When it comes to student housing, they focus on assets near large schools of first choice, those with 15,000+ in total enrollment.
Looking forward
In the near term at least, the pandemic has altered their investment strategy somewhat. When acquiring or developing a property, Blue Vista likes to aim for bed-bath parity as they are more attractive to prospective residents. While doubling up beds in one room was less than ideal pre-pandemic, it was certainly possible in some situations.
"We're more hesitant today than we may have been a year or two ago to sign off on double occupancy," Schwartz said. He added that, while amenities such as fitness centers and study rooms aren't going away, there is now more focus on infrastructure improvements such as higher efficiency HVAC that can give residents peace of mind.
Online learning exploded in 2020 out of necessity. It is a stopgap, however, and likely not a portent of things to come. Post-pandemic 18-year-olds are going to be just as eager to leave home and have the college experience as their cohort were before anyone heard of COVID-19. For that reason, and for the resiliency that the sector showed during this crisis, it's clear that student housing remains an ascendant asset class.
---
Author Matt Baker, RE Journals