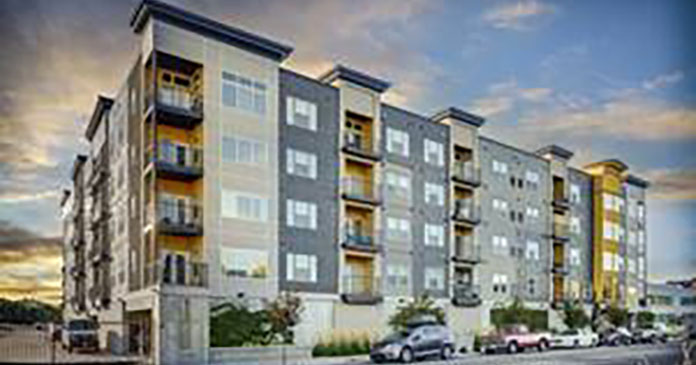 Institutional Property Advisors (IPA), a division of Marcus & Millichap, announced the sale of ViA, a 138-unit midrise apartment building in South Salt Lake, Utah.
"ViA Apartments is a high-quality, transit-oriented multifamily asset that gives residents exceptional access to Salt Lake City's thriving economic ecosystem," said Brock Zylstra, IPA first vice president. "The region experienced a short shutdown in the spring due to the pandemic, but job growth has rebounded, and Salt Lake City continues to have one of the nation's strongest economies." Zylstra and IPA's Danny Shin, Steve Gebing and Cliff David represented the sellers, an affiliate of Mountain Capital Partners, an affiliate of Dekel Capital, and Castlewood Development. The buyer is Graycliff Capital.
"We are continuing to strategically expand our geographic reach beyond the Carolinas and the Southeast," said Paul Aiesi, partner at Graycliff Capital. "We look forward to becoming part of the Salt Lake City central business district and the vibrant area to the south, which has seen steady economic and population growth over the past few years." The purchase of ViA is Graycliff Capital's second acquisition in the Salt Lake City multifamily market within the past 60 days. "In 2020, Salt Lake City's net in-migration reached its highest level in three years, spurred in part by an influx of new residents from more densely populated cities who came during the health crisis seeking open space," added Shin.
Located next to the Meadowbrook station of Utah Transit Authority's TRAX light rail system, the property places residents within easy reach of Downtown Salt Lake City and 32 million square feet of upscale retail and restaurant options. The Sugar House and 9th and 9thneighborhoods are nearby. The Southgate Shopping Center is three miles away and the University of Utah, Salt Lake Community College, and Westminster College are within a short drive. Built in 2016, the five-story property has many amenities, including community-wide Wi-Fi, door-to-door trash pickup, a heated swimming pool, hot tub, and car-charging station. The average unit size is 700 square feet. "Salt Lake City's recent population growth has generated the need for more housing options," noted Gebing. "While some households will choose to buy a home, the high median price of a single-family home places ownership beyond the means of many renters." Gary Mangum is Marcus & Millichap's broker of record in Utah.