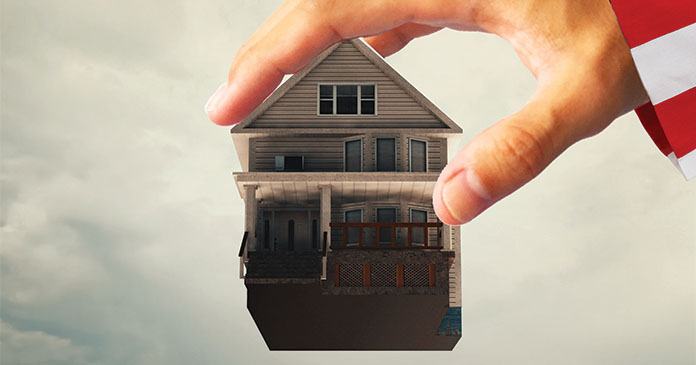 With so many Americans out of work and unable to pay their rent, the Centers for Disease Control and Prevention instituted a nationwide eviction ban on residential rental properties.
With the moratorium originally set to expire on January 31, newly elected President Joe Biden, on his first day in office, signed an executive order prolonging the eviction ban until at least the end of March.
Under this eviction moratorium, residents who fail to pay their rent or mortgage are shielded from removal, so long as they submit a formal declaration to their landlords, proving their financial hardship is COVID-related.
Any landlord who fails to comply with the CDC's policy can be slapped with fines up to $200,000, face criminal prosecution, and even be forced to serve time behind bars.
No one wants to see the homeless population rise, but what of the landlords who also have bills to pay and mouths to feed? These individuals seem to be forgotten when we look at the casualties of the nationwide financial crisis.
Forcing a business into a charity
In Northeast Washington D.C., Archie Djabatey owns a four-unit building where he also resides. According to The Washington Post, the 35-year-old bought the building with dreams of building a legacy he could pass on to his future children—an aspiration that has since been placed on pause by the eviction moratorium.
The eviction crisis has been a unique situation for Djabatey, because his neighbors are also his residents. "You want to help, but it's also a business," he said, "That's the way it is."
These moratoriums place the burden of housing solely on landlords, perpetuating the financial hardships the country is already facing.
In February of last year, just one month before the pandemic changed nearly every aspect of our lives, Djabatey had to file an eviction suit against one of his residents after he had failed to pay rent. Not only was the resident delinquent, but he had also been using drugs on the property and had strangers funneling in and out of his unit at all hours, becoming a nuisance to the other residents.
The court rightly sided with Djabatey. But the eviction process came to a screeching halt as COVID began spreading across the country. Ten months later, and the resident in question is still living in the apartment without paying rent while violating the terms of his lease and protected against eviction. This moratorium is not only a problem to other residents, it's also robbing the building's owner of $1,002 a month. "It's coming out of my pocket. I'm in a very tight situation."
Djabatey's story is just one of many. Pacific Legal Foundation (PLF) attorneys spoke to a landlord in Louisiana who explained that she had trouble paying her mortgage due to lost income.
As a result, she could no longer afford essentials, like prescription medications, all because of the eviction moratorium.
But Louisiana and Washington, D.C. are not the only regions with a strict eviction moratorium.
Villainizing the landlord, again
The term landlord might conjure up images of slumlords taking advantage of their residents and leaving them with dilapidated and unlivable dwellings. Yet, in Southern California, where eviction is prohibited for any resident who is able to pay at least 25 percent of their rent or mortgage, 70 percent of rental building owners own fewer than 50 units. These small landlords are worried about how they will stay financially afloat with the eviction moratoriums being continually expanded.
New York landlords are dealing with the same concerns, as the state recently passed what The New York Times called "the most comprehensive anti-eviction laws in the nation."
The ordinance puts a pause on any eviction proceedings already filed in court and prohibits landlords from beginning any new proceedings until at least May 1.
In Oregon, the newly passed House Bill 4401 extends eviction bans until June 30, 2021. Several landlords have since filed suit against Gov. Kate Brown, Portland, and Multnomah County in response to the new law.
Many constitutional attorneys have questioned why the CDC is making policy decisions in the residential real estate market, given that the Constitution does not authorize it to do so. Only Congress has the power to create and pass laws.
Government agency overreach, again
The Public Health Service Act does give the CDC the authority to take steps to curb the spread of the virus, but it only authorizes the agency to "provide for such inspection, fumigation, disinfection, sanitation, pest extermination, destruction of animals or articles found to be so infected or contaminated… and other measures."
The CDC has extended that authority by claiming that allowing landlords to evict delinquent or destructive residents will exacerbate the spread of the virus.
Well-intentioned as the eviction moratoriums may be, these policies often cause more unintended consequences than solving actual problems. It's unclear how many people would actually have been evicted in 2020 without the bans. During the 2008 financial crisis, for example, despite fears of mass evictions and homelessness, eviction rates stayed relatively the same as before the crash.
These moratoriums place the burden of housing solely on landlords, perpetuating the financial hardships the country is already facing. There are more effective and reasonable policies that would protect those truly struggling from pandemic-related hardships, while also making sure landlords aren't losing their income.
Why are landlords targeted?
Many people are struggling right now, but not everyone is being asked to bear such a heavy weight on their shoulders. "No one is asking restaurants and grocery stores to give food out for free, so why are government agencies, with no authority to legislate, asking landlords to provide a service without compensation?" said PLF attorney Ethan Blevins.
As is the case with many national crises, the government is making a power grab wherever it can feasibly justify doing so, ignoring the separation of powers guaranteed in the Constitution.
PLF has filed suits on behalf of struggling landlords in Ohio and Louisiana, but landlords all over the country continue to suffer the consequences of the CDC's actions.
---
Source Brittany Hunter, Pacific Legal Foundation