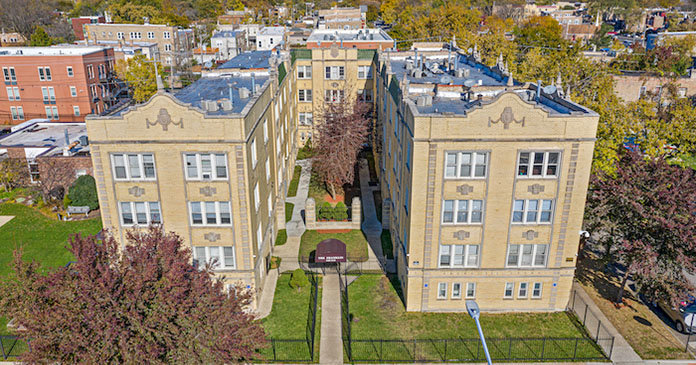 Kiser Group has closed the $3.7 million sale of 3432-40 W. Franklin Boulevard. This 46-unit multifamily property is located on Chicago's West Side in the South Humboldt Park neighborhood.
Advisors Jack Petrando, Danny Logarakis and Rick Ofman brokered the fully renovated property and represented both the buyer, RMRE Holdings, LLC and seller.
"We saw a lot of interest in this property with dozens of tours and a handful of offers," said Petrandro. "Chicago's West Side neighborhoods continue to attract investors looking for cash flowing buildings in appreciating areas."
"Having listed this property in December, we are thrilled to bring it to a swift close," said Logarakis. "The scale of this building is rare for the neighborhood and investors were quick to make offers."
The property was built in 1927 and underwent a full renovation in the mid-2000s. It features 23 one-bedroom/one-bathroom units, 22 two-bedroom/one-bathroom units and one three-bedroom/one-bathroom unit. Rents range from $624 to $1,375 per month.
"As the building was gut-renovated fifteen years ago, the buyer intends on completing cosmetic upgrades to some units," said Ofman. "Their major focus is improving operations, management, and tenant relations as they stabilize the asset."