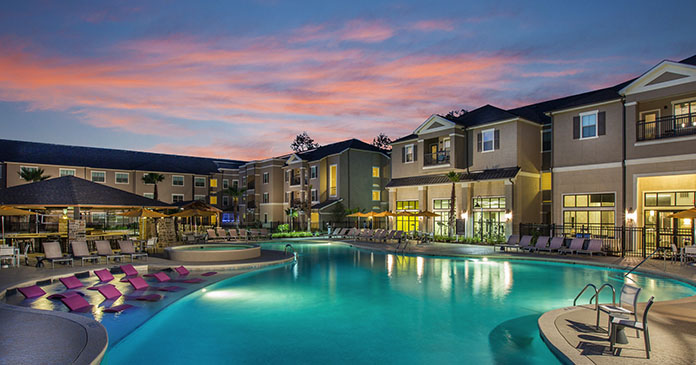 Landmark Properties, a vertically integrated student housing developer and owner-operator, recently acquired The Exchange at Baton Rouge, a 299-unit, 898-bed student housing property located near Louisiana State University.
The Exchange at Baton Rouge is a garden-style student housing property located approximately 1.5 miles from LSU and is situated adjacent to Tiger Land, one of the most popular entertainment areas for LSU students.
The Exchange features a wide variety of amenities including three resort-style swimming pools, four courtyards, bike storage, volleyball court, fitness center, cybercafé and game room. The Exchange also offers a variety of floorplans ranging from one to four bedrooms.
"We look forward to bringing our proven construction, design and management experience to The Exchange at Baton Rouge to create an upscale living environment for residents near LSU," Landmark Properties President and CEO Wes Rogers said.
"We continue to be bullish on acquiring and developing high-quality housing communities at Tier 1 universities across the country, and The Exchange is a perfect example of an asset that aligns with our investment strategy."
Landmark plans to infuse strategic capital into The Exchange and modernize the community through its Class A standards approach and market-leading design team.
The purchase of The Exchange at Baton Rouge represents Landmark's eleventh acquisition in the past eighteen months and its first transaction completed in partnership with Halstatt Real Estate Partners. Landmark currently operates a 48,400-bed portfolio worth approximately $7 billion.
"Despite the unique challenges of the past year, we have stayed true to our strategic investment and development approach, leading to deals on nine new developments worth $1.7 billion and four acquisitions valued at more than $650 million. I'm deeply proud of our team's hard work and tremendous talent. Through their efforts, our company has grown to over 980 employees nationwide—making us the leading vertically integrated student housing company in the country," Rogers said.