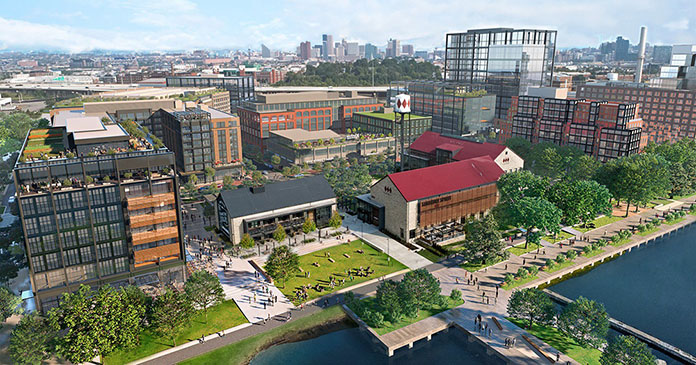 JLL Capital Markets announced that it has arranged a $189 million construction loan for the development of the first phase of Port Covington, which, at up to 18 million square feet, will be one of the largest mixed-use urban redevelopment projects in the nation. The project is situated along Baltimore's waterfront and will consist of a mix of office, retail, mixed-income residential, hotels, marinas, public spaces and more.
JLL worked on behalf of the sponsors, Sagamore Ventures and Goldman Sachs Urban Investment Group ("UIG"), and their development partner, Weller Development Company, to place the four-year construction loan with Bank OZK. Buildings in this phase, referred to as Chapter 1B, will begin delivering in late 2022.
The city of Baltimore issued the first $138 million tranche of the Port Covington TIF ($660 million total) to fund infrastructure improvements for the project. The Port Covington TIF represents the largest Tax-Increment Financing package in the city's history. The first phase of Port Covington comprises more than 1 million square feet across five properties and will anchor the project. The properties involved in Chapter 1B include:
Building E1: 223,000-square-foot building (162 residential units and 40,000 square feet of retail)
Building E5A: 221,500-square-foot building (212,000 square feet of office and square feet of retail)
Building E5B: 133,000-square-foot building (40 residential units, 81 extended-stay units and 6,000 square feet of retail)
Building E6: 293,000-square-foot building (254 residential units and 16,000 square feet of retail)
Building E7, Rye Street Market: 273,000-square-foot building (228,000 square feet of office and 45,000 square feet of market)
Upon delivery of Chapter 1B, 20 percent of the residential units in Port Covington will be affordable dwelling units.
Port Covington is being constructed on 235 acres along the Baltimore waterfront. The Southeast Baltimore submarket has seen tremendous demand and activity in recent years as the surrounding neighborhoods have been revitalized.
"The team and many stakeholders across the city and in the community have worked tirelessly for a long, long time to get to this point, and we are so proud to have reached this important milestone together," said Marc Weller, Founding Partner at Weller Development Company. "The momentum continues for Port Covington, and we look forward to great things ahead for the entire City and our South Baltimore neighbors."
The JLL Capital Markets team representing the borrower was led by International Director Steve Collins based in Washington, D.C.
Collins feels confident the Port Covington is a world-class project providing much needed retail, multi-housing and office space to the submarket and opportunity to the surrounding communities. It will revitalize the Southeast Baltimore neighborhood.
"We have been impressed by the vision and efforts put forth by the Port Covington team, who have been remarkable," Collins said. "The sponsors and Weller Development Company have an ambitious goal and infectious attitude for changing the landscape in Baltimore.
"JLL has believed in the project since day one and has eagerly supported the team's vision with our world-class capital markets and commercial leasing capabilities," he added. "We are excited and honored to be a small part of this big step for the city of Baltimore."
JLL Capital Markets is a full-service global provider of capital solutions for real estate investors and occupiers. The firm's in-depth local market and global investor knowledge delivers the best-in-class solutions for clients—whether investment sales advisory, debt placement, equity placement or a recapitalization. The firm has more than 3,700 Capital Markets specialists worldwide with offices in nearly 50 countries.