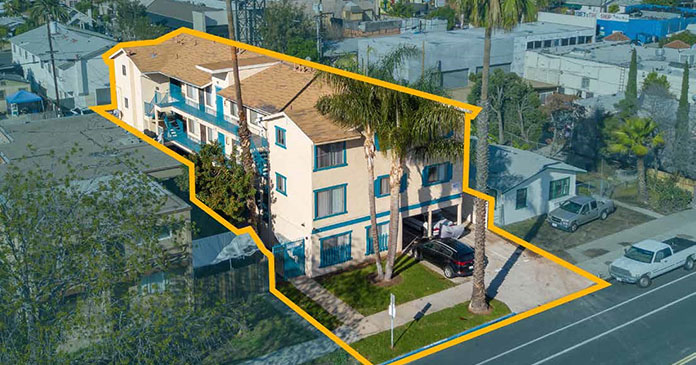 Stos Partners, a privately held commercial real estate investment firm, recently acquired an 18-unit multifamily property in the North Park-Cherokee Point submarket of San Diego in an off-market transaction as part of a strategic expansion into multifamily investment.
The firm initially entered the sector this past September with the acquisition of an apartment project in the Talmidge neighborhood of Mid-City San Diego, according to CJ Stos, Principal of Stos Partners.
"Our recent multifamily acquisitions dovetail nicely with our experience and strategy of focusing on middle-market commercial properties that present an opportunity for value creation," says Stos. "As with many of our existing holdings, we will perform deferred maintenance and implement light-to-moderate value-add upgrades to the asset to bring rents up to market."
The firm plans to rebrand the recently acquired community and implement significant capital renovations, according to Jay Boyle, Executive Vice President at Stos Partners.
"This property aligns perfectly with our investment strategy through which we acquire, reposition, and operate well-located properties that are poised to deliver long-term value," says Boyle. "We plan to implement exterior improvements including new paint, wood façade upgrades, roof improvements, and landscaping. Additionally, we will implement interior renovations to make the units more modern and appealing to today's renters."
Stos Partners, one of the most active buyers of industrial and multifamily product in Southern California, recognized the continued strength of the multifamily sector and its exceptional resilience through the pandemic, according to Jason Richards, Partner at Stos Partners.
"Like the industrial sector, multifamily has continued to perform exceptionally well despite the COVID-19 pandemic," says Richards. "We expect this activity to continue and moving forward, we plan to invest in locally-owned multifamily properties throughout Southern California and Arizona, eventually amassing a portfolio of thousands of units and achieving economies of scale. We are extremely well-capitalized, have a deep understanding of these markets which allows us to be nimble and successfully implement our strategy to position these assets for long-term growth."
The property, which was purchased for $4.04 million, is located at 3864 35th Street in San Diego, California. Erik Anderson of Northmarq represented Stos Partners as the buyer in the transaction. Acquisition financing was provided by C3 Bank.