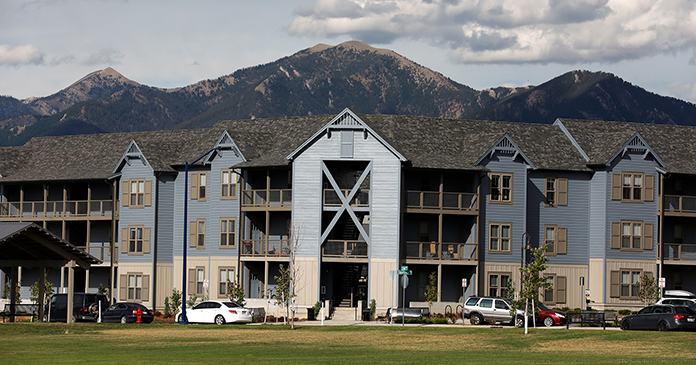 TPG Real Estate Partners ("TREP"), the dedicated real estate equity investment platform of global alternative asset firm TPG, and Cardinal Group Investment Management ("Cardinal Group"), announced today that they have closed on their acquisition of The Arrow Townhomes and Flats. The transaction represents the second investment for the TREP and Cardinal Group joint venture and the ninth asset acquired.
The 887-bed property is located adjacent to Montana State University and offers students an amenity-rich living option within walking distance of campus and the football stadium. Constructed in 2019, the property offers an attractive amenity package, including a resort-style pool, state-of-the-art fitness center, 24-hour clubhouse, sauna, steam room, and multiple study rooms. The units feature high-end finishes in a variety of floor plan options. TREP and Cardinal Group plan to furnish additional units to meet the growing student demand.
"The Arrow Townhomes and Flats represents a continuation of our strategy to invest behind high-quality properties located near well-established academic institutions in growing markets across the U.S," said Ty Newell, Principal at TREP. "We are pleased to complete our second acquisition with Cardinal Group and look forward to working together to grow and enhance the portfolio."
"The Arrow Townhomes and Flats property is a tremendous addition to the TREP/Cardinal Group portfolio and we look forward to working together to build on this momentum in the months and years to come," said Greg Martini, Vice President of Acquisitions at Cardinal Group. "This transaction enables us to enter the growing Bozeman market with a well-built asset in a prime location. The property has shown resiliency through the pandemic and our vertically integrated platform will play an integral role in maximizing performance."
The property will be managed by Cardinal Group Management with value-add construction management provided by Cardinal Group Construction and marketing and branding services offered by Agency Fifty3, also an affiliate in the Cardinal Group Companies.
The portfolio was marketed for sale by Berkadia's National Student Housing Team as a representative of the seller. CBRE advised on the debt for the acquisition, which was added to the Fannie Mae credit facility that was formed for the Cardinal Group and TREP programmatic joint venture