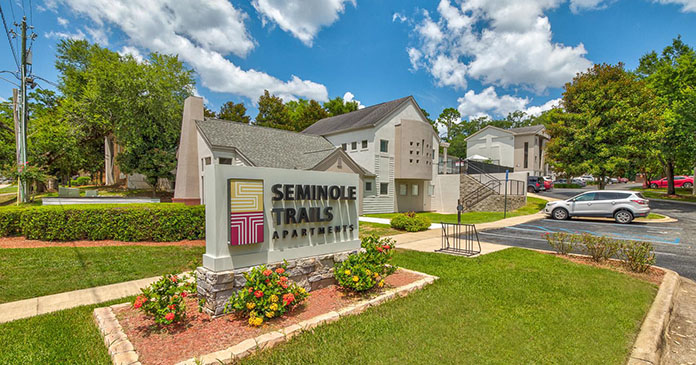 Marcus & Millichap, a leading commercial real estate brokerage firm specializing in investment sales, financing, research and advisory services, announced the sale of Seminole Trails, a 256-unit apartment property located in Tallahassee, Fla., according to Justin W. West, regional manager of the firm's Orlando office. The asset sold for $15,725,000.
Benjamin N. Skinner and Matthew W. Prozzillo, investment specialists in Marcus & Millichap's Orlando office, had the exclusive listing to market the property on behalf of the seller, a non-traded real estate investment trust.  The buyer, a New York based private equity firm, was secured and represented by Benjamin N. Skinner and Matthew W. Prozzillo.
"It was a pleasure representing the seller, a New York based non-traded REIT, and the buyer, a New York based private equity firm throughout this transaction. This deal provided the sellers an opportunity to exit at the end of their investment horizon, and the buyers the ability to further expand their footprint in the Tallahassee market.," says Benjamin N. Skinner
"Due to the property's favorable unit mix consisting largely of one-bedroom units, along with the growth trends that the Tallahassee market is experiencing, Seminole Trails was able to garner eight offers throughout the short marketing period. Ultimately, the winning offer came from a New York based private equity firm who viewed the property as a strategic addition to its expanding Tallahassee portfolio.," says Matthew W. Prozzillo
Seminole Trails, located at 205 White Dr in Tallahassee, Fla., is a 256-unit multifamily asset located only 3 miles east of downtown Tallahassee and the $300M+ Cascades Redevelopment. Seminole Trails was built in both 1972 and 2005 and boasts a favorable unit mix of 93 percent one and two-bedroom units. Up until the sale, the community has been institutionally owned and operated with nearly $2 Million in capital improvements completed since 2016. Transformational upgrades were made to the clubhouse, leasing center, and property signage, in addition to unit interior upgrades.