The global pandemic didn't stop developers from planning new apartments projects—often in smaller, quickly growing metro areas. The boom in apartment construction that began around 2015 barely slowed down in 2020, despite a global pandemic that crippled economies and took hundreds of thousands of lives.
Developers continued to plan for the future, confident that the renters will need the apartments they build once the pandemic is over.
The places where these developers are choosing to build are changing, however.
Developers have followed many of their renters to less-expensive metropolitan areas, often in the Southeast or Southwest, where there is still land available to build apartments and the economies are likely to grow.
What pandemic?
Even during the worst months of the crisis caused by the coronavirus, developers never stopped planning new apartment projects.
In April 2020, when most people were either working from home or not able to work at all, developers took out permits to build 29,800 new apartments, according to numbers from the U.S. Census (not seasonally adjusted).
That's a significant drop from 40,400 the year before, in April 2019.
But the world of development did not grind to a halt—even though many of the civic offices that give out building permits were closed in the crisis.
Apartment developers also didn't wait during the rest of 2020. They took out a total of 416,200 building permits in the pandemic year 2020.
It was the fifth year in a row that developers took out permits to build more than 400,000 apartments, continuing a boom that began in 2015. The total of new multifamily permits in 2020 was down from a record of 481,300 the year before—but not by much, considering the economic chaos caused by the pandemic.
Some of these projects had probably been planned long before. But developers have shown in the past that they can quickly cancel or delay projects.
In 2009, in the dour depths of the Global Financial Crisis, developers took out permits to build just 121,200 new apartments—less than half of the 295,400 they took out the year before and less than a third of the peak of 389,200 in 2005.
In contrast to 2009, many developers are looking forward to a strong economic recovery from the pandemic in 2021.
"Developers are encouraged by much of what they see," says Greg Willett, chief economist for RealPage, Inc., based in Richardson, Texas.
Confident developers continue to commit to their new projects by taking out new constructions loans.
"Applications for construction financing were initially slowed by the pandemic… As time has progressed, construction financing has picked back up," says Will Mathews, senior vice president and acting managing director and platform leader of the East Region Multifamily Advisory Group for Colliers International, working in the firm's Atlanta offices.
Lenders seem happy to provide the money. "There's lots of capital available for development," says Willett. "Investors are eager to deploy it."
As the U.S. emerges from the pandemic, developers are expected to continue to increase their activity.
More than half of the top 100 multifamily construction markets will increase starts in the next five years compared to the last five years, says Kristina Garcia, associate director of U.S. capital markets research for Cushman & Wakefield, working in the firm's Atlanta offices.
Other, lesser-known, tertiary markets are set to explode in terms of multifamily construction, says Garcia. She expects construction starts to double or even triple by 2025 compared to the last five years in places like Myrtle Beach, S.C.; Columbia, S.C.; Greensboro, N.C.; Cleveland, Ohio, and Provo, Utah.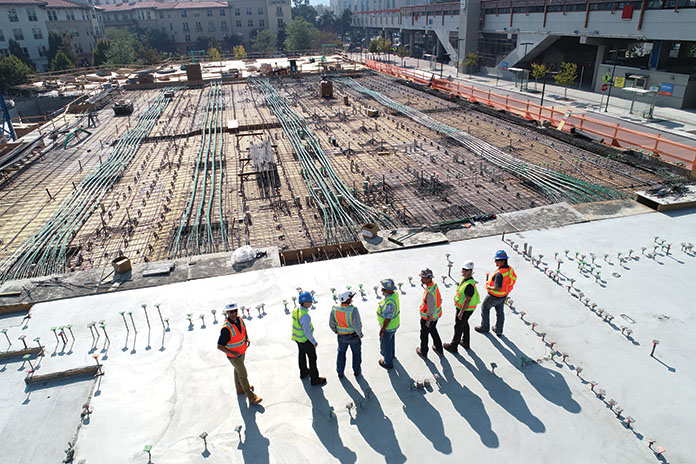 Developers turn South
The metro areas where developers are increasing their activity the most tend to be spread in a crescent from Phoenix, Ariz., in the Southwestern U.S. through Atlanta in the Southeast.
Developers are focused on areas where rents are relatively less expensive and the population and the number of jobs is likely to keep growing.
"During the pandemic, there has been an increased shift to secondary and tertiary markets," says Mathews.
Even before the pandemic, developers had begun to focus on these markets as gateway cities became overbuilt.
"We were already seeing a shift to Sunbelt markets," says Joe Biasi, consultant for CoStar Group.
Developers were also following renters, who began to move from expensive, Northeastern metro areas to more affordable Southern places long before the pandemic, says Biasi.
Apartments in these Southern metro areas where developers increased their activity continued to perform relatively well throughout the pandemic.
"These are all locations where economic recovery has lots of momentum, and apartment property performances are improving," says Willett.
In addition, many of these metro areas still have relatively inexpensively land available.
"There is a ton of land that is not developed," says Richard Katzenstein, senior vice president and national director of Marcus & Millichap Capital Corporation.
Texas towns top developer lists
Metro areas in Texas, for example, are getting a lot of attention from developers.  The five metro areas where developers took out the most permits in 2020 to build new apartments include three cities in Texas.
"Starts are headed upward across most of Texas—particularly in Austin," says Willett.
Despite the pandemic, developers took out permits to build 18,799 new apartments in Austin in 2020. That would be a giant, 8.0 percent increase to the inventory of existing apartments there, according to data from CoStar and the U.S. Census.
It's a huge amount activity for a relatively small market. Austin was the third busiest city in the U.S. for multifamily building permits in 2020—beating out much larger cities like Los Angeles, Seattle, Washington, D.C., and Boston.
It has several of the features developers are most interested in, including a very strong local economy and housing that is relatively inexpensive—at least compared to larger, gateway cities.
For four years in a row, Austin has been one of the top ten markets in the U.S. where the number of building permits taken out by apartments developers has grown the most, says Mathews.
Developers also continue to plan projects in larger Texas cities like Houston, which was second busiest city for multifamily building permits in 2020, and Dallas, which dropped three places to number five.
Land draws builders to Phoenix
Phoenix is another city where apartment developers are becoming more active, Willett says, drawn by a strong economy and a growing population. Developers took out permits to build 14,000 new apartments in 2020, which would increase the existing inventory by 4.2 percent. Their work made Phoenix the sixth busiest place in the U.S. for building permits.
Phoenix has available land where developers can to build new housing, such as garden apartments, at relatively low-densities.
Phoenix has so much land that homebuilders were able to pull permits to build more than 30,000 new single-family houses in 2020—three times as many as in New York or Los Angeles. Land is much harder to come by in those much-larger, more-built-out cities.
Low-rise, wood-frame garden apartments are much less expensive to build than taller mid-rise or high-rise buildings—which makes them attractive to developers.
"The next round of construction should feature at least a little more product with rents slightly below top-of-the-market pricing," says Willett. "Look for a bump in the new supply that's a little more affordable than most of today's newest communities."
Renters have also been eager to move to places where they can afford more room.
"Whether single professionals, roommates, or families, one common trend is desire for more space," says Mathews.
Jobs, culture attract developers to Nashville
Nashville, Tenn., is the third relatively small metro area to attract outsized an amount of attention. Developers pulled permits to build 11,000 new apartments in 2020. That's enough to grow the existing inventory by 8 percent and enough to make Nashville the 10th busiest metro in the U.S. for multifamily permits.
Nashville has a number of features in common with other fast-growing markets. Its economy is strong. As a live music capital, is has cultural cachet to attract young people. Also, like Phoenix, Nashville still has land to build relatively inexpensive housing at low-densities. Developers of single-family homes pulled permits to build 14,000 homes in 2020—more than in the built-out metro areas around Washington, D.C.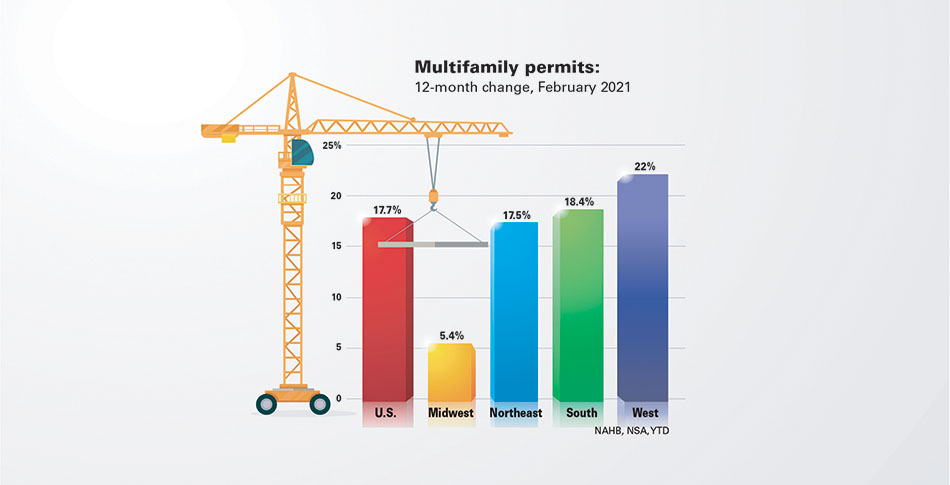 Developers look to the suburbs
Within metro areas, developers have been suburban submarkets—especially if they can find sites to build low-rise apartments.
Developers are now most eager to build new apartments in suburban areas with good transit to downtowns and nearby amenities.
"Before developers were looking to build in downtown areas, but now the suburbs have become the target," says Biasi.
Since the start of the pandemic, the number of garden apartments that developers started to build dropped by just 1 percent. In comparison, the numbers of mid-rise and high-rise apartments fell 14 percent, according to Mathews.
"The mid-rise and high-rise market is clustered in dense urban areas where concerns over COVID-19 were most acutely felt," says Mathews.
In the downtowns of the most expensive, gateway cities, apartments opening during the pandemic often offered several months of free rent to attract renters, according to CoStar.
In suburban areas, apartments often benefited from people moving away from expensive downtowns. Suburban property managers often had less competition for new apartments opening nearby.
"Construction has really been focused in downtown areas throughout most of the last cycle," says Biasi.
Even after the pandemic is over, suburban developers may benefit from people continuing to move out from expensive urban cores.
"If work from home becomes more prevalent, even on a two- or three-day-a-week basis, we would see more demand further away from the urban core, as workers are willing to trade a longer commute for cheaper markets in that case," says Biasi.
Developers have been more able to find suburban sites where they can build garden apartments since the pandemic.
"There used to be challenges at the municipalities to rezone sites to build apartments—those challenges have significantly subsided," says Brian McAuliffe, president of capital markets for CBRE, working in the firm's Chicago offices.
Even in the most expensive metro areas, like New York, developers are beginning to find more opportunities to build in suburban areas.
"There are going to be towns that are going to be open to this," says Katzenstein. "This is all about taxes."
Developers still plan for big cities
Apartment developers are also still planning new deals in the biggest, most expensive apartment markets in the U.S.—around the gateway cities of New York, Los Angeles, Seattle, Washington, D.C., Boston and even San Francisco—just not quite as much as they used to.
Despite the crisis caused by COVID, the New York metro area is still the busiest place in the U.S. for the apartments development. Developers took out more permits to build new apartments there in 2020 (40,283) than any other metro area in the country, just like they did in the year before the pandemic, in 2019 (47,021), according to data from the U.S. Census.
Even for a big metro area like New York, the permits developers pulled in 2020 add up to enough to grow the existing inventory of apartments by 2.6 percent.
Los Angeles also received attention from developers planning new projects. They took out permits to build 15,796 apartments in 2020. That would be a tidal wave of new construction almost anywhere else. It would increase L.A.'s large apartment inventory by a relatively restrained 1.1 percent.
Even in San Francisco, where rents dropped sharply in the pandemic, developers took out enough permits in 2020 to increase the inventory 1.8 percent.
It would apparently take more than the coronavirus to turn developers away from these cities—even though they include some of the most expensive, overbuilt submarkets in the U.S.
"For investors to enter some of the more expensive markets and still get a return on their investment, many are finding development is the better choice," says CoStar's Biasi.
Some developers are even considering the urban core.
"Downtown markets should be in much better shape when just-starting product would reach completion in a few years," says Willett. "Most anticipate a strong comeback for downtown living, although it's not clear how long it's going to take."
---
Author Bendix Anderson