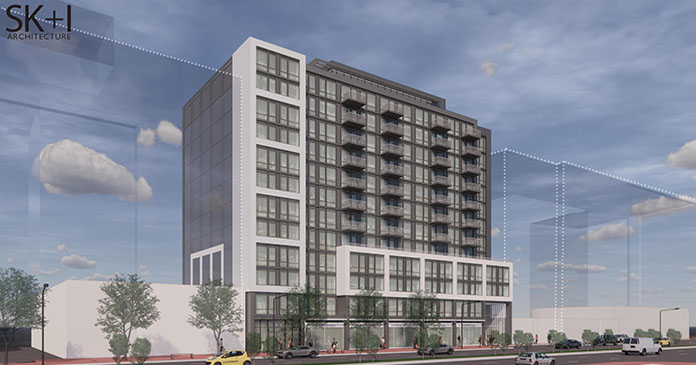 JLL Capital Markets announced that it closed the capitalization for a Class A multihousing development located at 7000 Wisconsin Ave. in Bethesda, Maryland, which is less than 10 miles from Washington D.C.
The high-rise development will stand 12 stories tall, consist of 181 one- and two-bedroom luxury units and include 6,090 square feet of ground-floor retail. The best-in-class designed property has thoughtful and modern unit finishes, including two-toned shaker cabinetry, quartz countertops, stainless steel appliances and sleek hardware. Community amenities include a co-working lounge, state-of-the-art fitness center, game room, courtyard and rooftop lounge.
The transit-orientated property boasts a Walk Score of 97 and is positioned near the Bethesda Metro Station and is walking distance from over 11 million square feet of office space, 250,000+ private sector employees and 530,000 square feet of high-end retail. The property also benefits from Downtown Bethesda, a thriving urban center with various restaurants and shopping options, and nearby amenity hubs including Bethesda Row, which contains over 60 stores and 533,000 square feet of high-end retail and restaurants; and Woodmont Triangle, consisting of more than 160 shops and restaurants.
Additionally, Bethesda is expected to experience continuous growth, with Marriott International set to move its global headquarters just a mile from the property, providing economic and employment opportunities for the surrounding area.
The JLL Capital Markets team was led by Travis Anderson, Cory Fowler, Susan Carras, Brian Crivella, Walter Coker and Robert Jenkins.
JLL Capital Markets is a full-service global provider of capital solutions for real estate investors and occupiers. The firm's in-depth local market and global investor knowledge delivers the best-in-class solutions for clients—whether investment sales advisory, debt placement, equity placement or a recapitalization. The firm has more than 3,700 Capital Markets specialists worldwide with offices in nearly 50 countries.