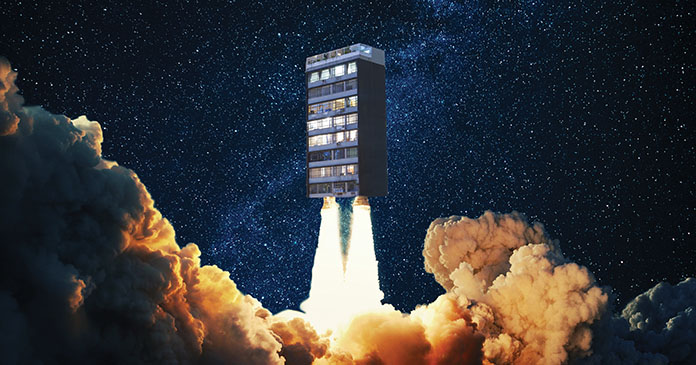 Renters were flocking to new apartment buildings in downtowns across the Midwest, often filling these spaces before construction even wrapped. Renters by choice—both young and old—wanted to live in the urban hearts of cities, attracted to their live entertainment, mix of retailers and dining-out choices.
That, of course, was before last March, when the pandemic upended life in the U.S. and all those restaurants, shops, bars and theaters shut down.
That was then. This is now.
In the last year, urban living hasn't been quite as attractive, and brokers report that many renters who would have sought out apartments in downtown Minneapolis, Chicago or Indianapolis are instead renting in the suburbs, eager for the wider-open spaces that make social distancing and quarantining easier.
But what about today? And what about the rest of 2021? Do commercial real estate professionals expect a resurgence in demand for urban multifamily living? Are renters ready to return to the city, and will downtowns shake off the malaise and become vibrant, attractive places in which to live once again?
The answers to these questions? An emphatic "yes," according to the CRE pros interviewed for this story. And that's good news for multifamily owners and investors in downtowns across the Midwest.
Illinois
Mike Dury, president and CEO at Merchants Capital, with locations in Carmel, Indiana; Chicago; Saint Paul, Minnesota; and New York City, said that the demand for apartment units in denser urban locations has fallen since the start of the pandemic.
But like other commercial real estate professionals, Dury doesn't expect this trend to become a lasting one.
Dury said that the pandemic and the restrictions that have come with it have reduced the live/work/play appeal of downtowns. At the same time, major companies continue to operate in work-from-home mode, reducing the number of people in urban centers during the day. Even as restrictions have been lowered, then, downtown restaurants and retailers have little incentive to maintain full operating hours or services.
This will change gradually, Dury said, as companies bring workers back to the office and as vaccines continue to roll out across the country.
"When you get through this, you will see the jobs pop back," Dury said. "Not everyone will want to work from home permanently. People will want to live close by their jobs again."
Dury pointed to the downtown Chicago location of Merchants Capital as an example. As of March, about half of the employees in that location were working on site, the other half remaining at home.
"People want to come back. We just aren't there yet," Dury said. "Taking the subway and public transportation is tough right now. The demand for downtown living, then, will be slower to come back in Chicago than it will be in a market like Indianapolis where people drive to work. But I do think the demand for downtowns and urban living will come back."
Dury said that Class-A multifamily developments in suburban locations have performed especially well during the pandemic.
"Demand is high for a more suburban-type environment," Dury said. "Those folks who can afford to make that move and who have kept their jobs during the pandemic are looking for suburban locations. They continue to work from home. They are higher earners. They are interested in these suburban locations. Class-A in urban areas, though, has gotten hammered a bit. These buildings charge higher rents. People aren't going to pay those rents if the amenities around them aren't available and they don't have to be close to their jobs."
Another slice of the multifamily market that has suffered during the pandemic: Class-C apartments. As Dury says, tenants who rent in these properties have been hit harder by job losses.
"As a whole, though, people need a place to live," Dury said. "Occupancy rates have remained steady throughout the A-, A-minus-, B+-class and all asset types in the suburbs. C-class buildings have been hit harder than others. But occupancy rates have been steady and rent collections have mostly remained strong. People are still paying rent because they need a place to live."
Minnesota
Ted Abramson, SVP with the Minneapolis office of CBRE, said that the downtown core of Minneapolis has struggled since last March.
This isn't surprising. The features and amenities that make downtowns special have largely been closed or have scaled down their operations for more than 12 months now. With these amenities so limited, it's more difficult to attract renters to downtown, Abramson said.
"The urban locations are fueled by daytime activity," Abramson said. "With people not in their offices in Minneapolis and St. Paul, a lot of the restaurants and retailers have limited their hours or are only offering carry-out and delivery services. The things that make downtown special are limited now, which makes it less of a destination."
This, though, should only be temporary. Abramson said that he expects the urban core in the Twin Cities to bounce back as restrictions lessen and more residents are vaccinated.
Abramson said that he's already seen more activity on the streets downtown the last several weekends as he's ridden his bicycle about town.
"I am a believer that the CBDs and microneighborhoods in Minneapolis and St. Paul will return as soon as we see the opening of the economy," he said. "When we see the restaurants, arts, entertainment and sports return, there will be demand again. There is a cohort of renters that will always want to be in the center of all that activity."
Suburban multifamily projects have always been strong in the Minneapolis/St. Paul market. But the pandemic has provided them with an even greater boost, as some people who might have chosen to rent in urban areas have instead chosen the wider spaces and lower prices of renting in the suburbs.
Abramson said that the suburban multifamily market should remain strong in the Twin Cities area, though, even after the pandemic ends. Just as there are certain renters who are a perfect fit for downtown apartment towers, there are also those who are more attracted to the amenities, parking and extra space that come with suburban multifamily locations.
"The older Millennial group is starting to get married and have kids," Abramson said. "With the pandemic, and with more people working from home, that next phase of life decisions for Millennials is only accelerating. A lot of that is likely fueling the for-sale home market, too."
Missouri
Jeff Stingley, EVP with the Kansas City, Missouri, office of CBRE, said that the multifamily market looks strong in his city, too.
"The apartment market here has been as close to the status-quo we saw pre-COVID as a market could be," Stingley said.
Every multifamily submarket in the Kansas City area saw positive rent growth in 2020, except for downtown. That's not surprising. Downtowns have struggled, and continue to do so, during the pandemic. This ripples over into the apartment markets serving these urban centers.
Stingley said that the Kansas City economy has remained resilient during the pandemic, something that has provided a boost to the area's apartment market. This is largely because Kansas City benefits from a diverse economy. It doesn't rely on any one industry.
The Kansas City area's largest industry today is healthcare, and that sector is largely resistant to economic downturns. Unlike other cities, a crash in one industry, then, won't send a good portion of Kansas City's economy into a spiral.
"We have been resistant during this pandemic," Stingley said. "Our industrial sector is growing faster than it might have done if it wasn't for the pandemic. Companies are choosing to put major distribution centers here because of our central location. That will be a huge trend for our market and for pushing our job growth during the next five to 10 years."
Kansas City's downtown has not performed as well as its other submarkets during the pandemic, Stingley said. Part of this is the large number of apartment units that have been delivered to the downtown area.
Stingley said that between 2015 and 2020, about 7,500 multifamily units had been delivered to downtown Kansas City. Last year was a particularly busy one, with about 2,400 units delivered.
COVID, of course, has slowed rental activity in these units. As Kansas City's downtown entertainment, restaurants and retail options were shut down or operated under limited hours, there wasn't as much of a draw to live in downtown Kansas City.
"We faced extraordinary headwinds in downtown last year," Stingley said. "A lot of these units were fighting for residents."
Stingley said that Kansas City's downtown, including demand for its apartment units, is poised to bounce back as life slowly returns to normal following the pandemic. The downtown will see fewer apartment units delivered in 2021 and 2022, which will help boost demand for existing stock.
Before the pandemic hit, Kansas City's downtown was in growth mode. The city removed several outdated office buildings and converted them to apartment units. The offices remaining were 90 percent to 95 percent occupied. More jobs were popping up in the urban core, too.
Then COVID-19 hit and slowed this momentum. But Stingley predicts that this slowdown will only be temporary.
"Our downtown is not a gateway market like New York City or Chicago where the rents are so much higher than what you see in the suburbs," Stingley said. "That changes the cost-benefit analysis here. If you are in one of those more expensive gateway markets, why would you pay $3,500 to $5,000 a month for an apartment when the bars, restaurants and entertainment options aren't all open? We don't have that same issue here. Our downtown isn't that expensive."
As employees steadily return to office buildings, Stingley said, the amenities and features that make downtown Kansas City attractive will also reopen. That will make this urban core a desirable place to live once again. And this will bring the renters back, Stingley said.
---
Excerpt Dan Rafter, RE Journals