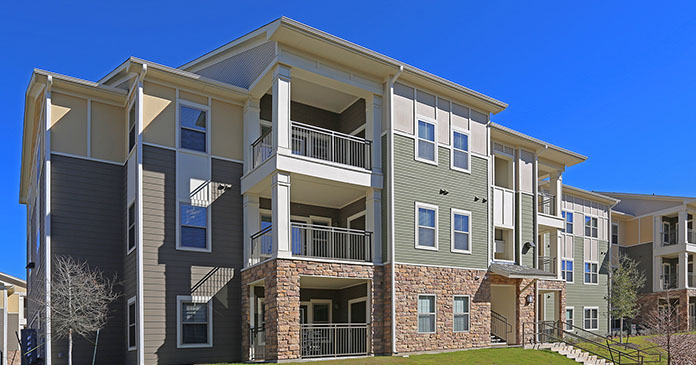 Investors Management Group ("IMG"), a California-based real estate investment company, has acquired Encore281 Apartments, a 228-unit community built in 2015 and located in North San Antonio for $33 million, or approximately $144,737 per unit.
The multifamily acquisitions and asset management firm has plans to buy more apartment communities in this region in the future.
"We think the San Antonio-Austin corridor is a terrific growth story. There's a tremendous amount of business expansion nearby propelling the multifamily market," said CEO Neil Schimmel. "When the Highway 281 construction ends, it's going to open a floodgate from Austin and bring a new wave of higher-income renters seeking an affordable apartment market."
Located directly on US-281 in the prestigious Stone Oak neighborhood, Encore281 offers residents an urban clubhouse with tech lounge and Texas Java Bar, 24-hour fitness studio, covered parking garages, pool, cabanas, picnic area, grilling stations and dog park. The gated community consists of 11 buildings encompassing a mix of one-, two- and three-bedroom floor plans.
IMG plans to invest approximately $1.2 million in capital improvements.
Over the past year, IMG has sponsored the acquisition of 1,400 total units nationally including the purchase of Apex Apartments in North San Antonio for $38.5 million in September 2020. Investors included tenants in common and limited partners, as well as 30 completing 1031 exchanges.
"Investor trust in our program allowed us to act quickly with Encore281," said IMG Principal Karlin Conklin, noting the increased competition among multifamily buyers. "The pandemic has put a spotlight on strong sponsors. Our investor network was all-in. They committed $14.5 million in a matter of days and requested standby to participate in future acquisitions."
Sean Sorrell, Greg Toro and Robert Arzola at JLL Capital Markets served as brokers in the transaction. Freddie Mac financing was secured through Charlie Mentzer at Capital One.
"Encore 281 apartment community will allow IMG To capitalize on a tremendous asset with vastly improved access and street visibility," said Sorrell. "The recent renovation to Highway 281 N. will provide the Community with easy access to all parts of northern San Antonio as well as the airport and San Antonio's CBD."