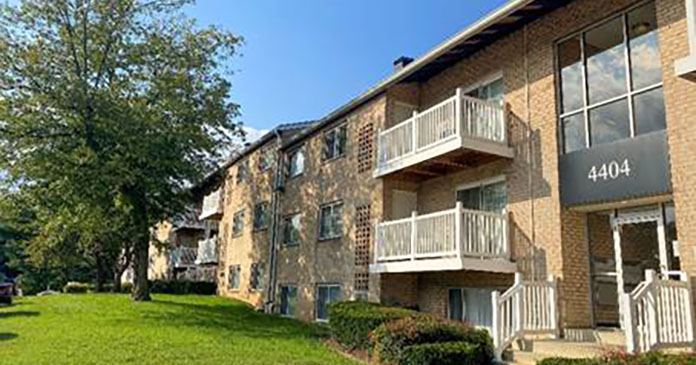 Transwestern Real Estate Services (TRS) announces its Mid-Atlantic Multifamily Group has brokered the sale of Admiral Place, a 410-unit, value-add investment property in Morningside, Maryland. AMAC sold the garden-style asset to Quantum Equities for $76 million, or $185,366 per unit. Transwestern Executive Vice Presidents Robin Williams and Dean Sigmon, Vice President Justin Shay and Senior Associate Michael D'Amelio represented the seller in the transaction.
"Admiral Place is a strategic purchase for Quantum Equities, as the Morningside submarket is supply-constrained for multifamily product," said Williams. "There is considerable upside potential to increase rental revenue by completing interior unit renovations."
Competitive communities in Morningside have demonstrated healthy demand for higher-end finishes and supported higher rents. In fact, multifamily demand and job growth have outpaced surrounding submarkets, resulting in low vacancy and strong historical rent growth.
"We are excited to further expand Quantum's footprint in the Mid-Atlantic area with the acquisition of Admiral Place apartments," said Josh Fink, Quantum Equities Senior Vice President, Acquisitions. "The property provides an exceptional value-add opportunity in a strong rental market."
Admiral Place is located a few miles from Regency Pointe, a multifamily asset Transwestern sold to Quantum Equities in late 2020 for $80 million. Over the past 12 months, Transwestern has sold nine apartment communities in Prince George's County and the surrounding region totaling 3,465 units with a combined value of approximately $600 million. Currently, the company has nearly $300 million in play with several new opportunities hitting the market in the next 30 days.
Transwestern's Mid-Atlantic Multifamily Group provides a full range of Investment Sales Services throughout Washington, D.C., Northern Virginia, Richmond, Baltimore, and Delaware. The group's recent client roster includes Sentinel Real Estate, Federal Capital Partners, Foulger Pratt with DLJ, Hampshire Properties, Aimco, Avalon Bay, Equity Residential, The Bozzuto Group, Fannie Mae, AIG Investment, Morgan Properties, Goldman Sachs, JP Morgan and Angelo Gordon.