Apartments are small business
There are 30,748,033 small business in the U.S. according to the Small Business Association. Small businesses are defined as less than 500 employees. Ninety-nine percent of U.S. businesses are small businesses and employ 47.3 percent of all U.S. workers.
Construction makes up the third highest number of small businesses (over 3 million); real estate, rental and leasing is the fourth largest industry for small business (nearly 3 million).
About 94 to 95 percent of all apartments are owned by private companies, many of these are small businesses.
More rough waters ahead
Small-business owners are hunkering down and readying for "war" as President Joe Biden and a Democratic Congress get ready to enact their agenda.
"Unfortunately, the Biden administration and the Democratic Party have effectively declared war on small business as far we're concerned," said Alfredo Ortiz, president of the small-business advocacy group the Job Creators Network.
Climbing out of a hole dug during the pandemic, they argue small businesses cannot afford the costs of new taxes, regulations, mandates, and a minimum wage increase. They say restaurants and other companies with thin profit margins, often disproportionately affected by measures undertaken to slow the spread of the coronavirus, are especially vulnerable.
A survey taken for CNBC after Biden's election found small-business confidence hit an all-time low. That was before Democrats swept the Georgia runoff elections in January, giving them control of the Senate as soon as Vice President Kamala Harris was sworn in. An Election Day poll found small-business owners favored Republicans by nearly 20 points on the question of which party would better help them recover from the pandemic.
The Biden administration has argued that its more than $2 trillion infrastructure plan has plenty to offer the nation's 30 million small businesses while it is the bigger fish that will be fried by the tax increases designed to pay for the legislation.
"The Made in America tax plan will help level the playing field between small businesses and large multinational corporations by ensuring that big corporations can't escape or eliminate the taxes they owe by offshoring jobs and profits in the United States and pay a lower tax rate than small businesses," Isabel Guzman, administrator of the Small Business Administration, told business leaders in a call organized by the White House in April.
Dealing with the impact of shutdowns
In February, when asked by a Twitter user what Biden was doing for small business, White House press secretary Jen Psaki replied, "First and foremost, he nominated a woman to lead the Small Business Administration who formerly worked there," a reference to Guzman.
Psaki then added two more bullet points. "The second thing is he signed an executive order to make it easier for minority-owned small businesses to get access to the funding that they need," she said. "And third is that in the American Rescue Plan, there's currently about $60 billion to help a range of small businesses get access to additional funds."
A number of economists have pushed back on claims that the 2017 corporate income tax cuts, signed into law by former President Donald Trump, led to the offshoring of jobs. Biden's new infrastructure spending would be offset in part by raising the corporate tax rate from 21 percent to 28 percent.
"Twenty-eight percent is not going to happen, but 25 percent," a compromise floated by some centrist Democrats, "is a real risk," Ortiz said. A Tax Foundation analysis found that even the smaller tax increase would lower GDP by 0.4 percent, eliminate 75,000 jobs, and reduce wages by 0.3 percent.
Still, the GOP's relationship with the business community is in a state of flux. A number of large companies announced their opposition to a Republican-backed Georgia law that Democrats blasted as voter suppression. Others said they would pull or review financial contributions to some Republican elected officials after the Jan. 6 riot at the Capitol. While the U.S. Chamber of Commerce overwhelmingly backed GOP candidates in last year's elections, the flagship business group did endorse a number of Democrats in competitive races.
Trump's economic populism and support for higher tariffs, cultural and racial sensitivity, an aversion to bad PR, and opposition to 2020 election challenges have all contributed to the rift. Cigna, for example, swore off "direct contributions to any federal or state elected official who encouraged or supported violence or otherwise hindered a peaceful transition of power" on Jan. 6, though many companies have resumed bipartisan giving.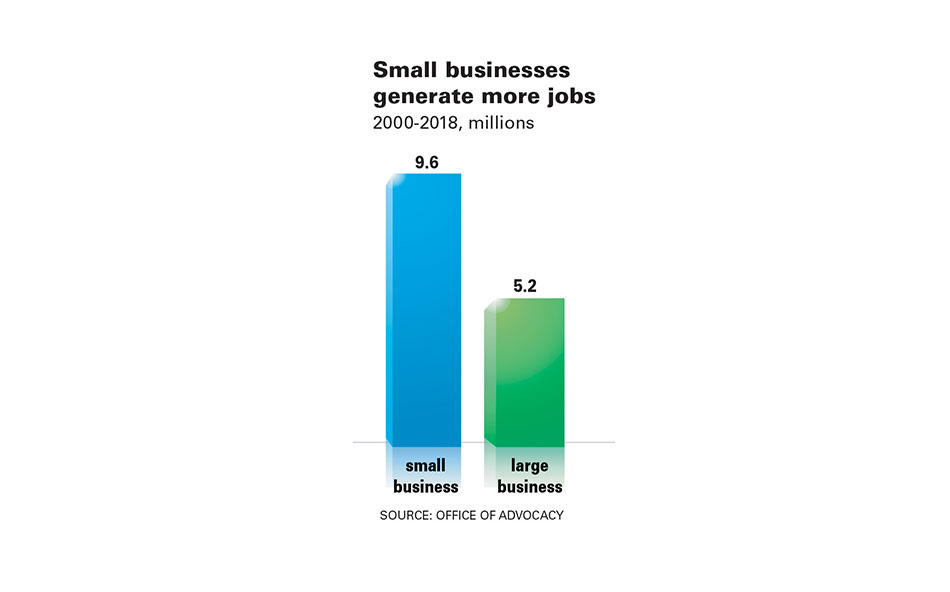 Backbone of America
Small businesses are seen as a potential counterweight to the shift in corporate partisan allegiances. "They represent Main Street values rather than Wall Street or the Beltway," said a Republican congressional aide. Ortiz called such businesses "the backbone of America."
Larger companies, they argue, are better equipped to withstand the tax and regulatory policies likely to follow from a year or two of unified Democratic control of the federal government's elected branches.
Ortiz pointed to Amazon's support for an increased minimum wage and noted that his group opposed the compromise $11 an hour proposal, down from the $15 an hour preferred by liberals, proposed by Sen. Mitt Romney, a Utah Republican, and Sen. Kyrsten Sinema, an Arizona Democrat. Sen. Josh Hawley, a Missouri Republican, backed $15 an hour but exempted companies with less than $1 billion in annual revenues.
Biden postponed remarks, wherein he was expected to elaborate on the economic benefits of his infrastructure plans, shortly before the Derek Chauvin verdict was announced.
---
Excerpt W. James Antle III, Washington Examiner