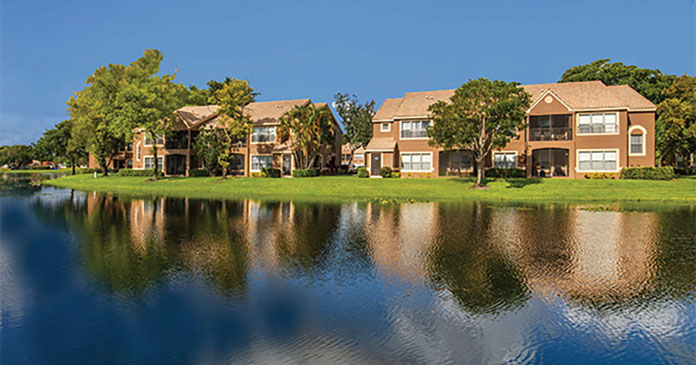 JLL Capital Markets announced it has closed the $40.2 million sale of Coral Falls, a 190-unit value-add multihousing property located in Coral Springs, Florida, which is just 20 miles northwest of Fort Lauderdale.
JLL worked on behalf the seller, Iron River Management on behalf of CF Partners Ltd., to complete the sale to the buyer, Landmark Companies, based in Keasbey, NJ; and working locally with Weirwood Capital. Landmark owns and operates over 3,000 apartment units and this is their second Florida acquisition. The buyer assumed the loan originally placed on the asset.
Coral Falls was originally built in 1988 and consists of 19 residential buildings, a clubhouse and maintenance shop. The garden-style apartments total 195,504 rentable square feet and include one- and two-bedroom floorplan options. Community amenities include a clubhouse, fitness center, picnic areas, tennis court, playground and swimming pool.
The apartments are located at 2801 N.W. 91st Ave., near various golf courses and other residential communities. This quaint area is known for its "calmer and higher quality of life," while still providing direct access to key economic drivers and employment hubs in Fort Lauderdale and Boca Raton. Coral Falls is situated off of University Drive, a major commercial corridor, surrounded by over 12 million square feet of industrial and office space, three hospitals and over 30 schools.
Despite the COVID-19 pandemic, Coral Falls has performed extremely well with current occupancy at 100 percent and resident retention averaging 74 percent.
The JLL Capital Markets team representing the seller was led by Managing Director Maurice Habif, Director Simon Banke, Director Ted Taylor and Associate Jo Rousseau.
JLL Capital Markets is a full-service global provider of capital solutions for real estate investors and occupiers. The firm's in-depth local market and global investor knowledge delivers the best-in-class solutions for clients—whether investment sales advisory, debt placement, equity placement or a recapitalization. The firm has more than 3,700 Capital Markets specialists worldwide with offices in nearly 50 countries.