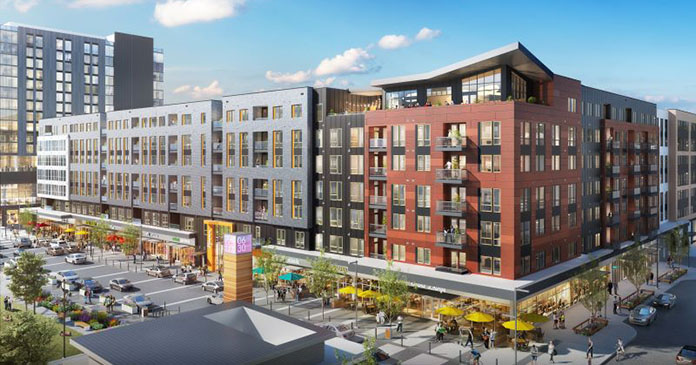 JLL Capital Markets announced it secured a $82.57 million construction loan for development of the Marlow apartments, a 472-unit community with 32,340 square feet of ground-floor retail located in downtown Columbia, Maryland.
JLL worked on behalf of the borrower, an affiliate of The Howard Hughes Corporation, to secure the floating-rate construction loan for an initial term of four years with a one-year extension.
The to-be-built Marlow apartments will be part of the larger 14 million-square-foot master planned development for downtown Columbia. Marlow will be one aspect of the larger Merriweather District micro market, which will ultimately total 2.3 million square feet of office space, 320,000 square feet of retail, 1,900 multi-housing units, a 250-room hotel, a community pavilion and about 60 acres of open space.
Initial delivery of the apartments is expected in Fall 2022 and will enhance the placemaking and street scape of the larger Meriweather District. This will be the fifth property delivered by The Howard Hughes Corporation in this micro market, following the delivery of the adjacent 382-unit Juniper apartments in 2020 and the 321,000-square-foot, Class A 6100 Meriweather office building in 2019, home of the Tenable world headquarters.
Located at 6200 Valencia Lane, Marlow will total 510,181 rentable square feet and include studio, one-, two- and three-bedroom floorplans, in addition to eight loft units with two-story layouts, which will be completely unique to the marketplace.
The Merriweather District cradles Symphony Woods, a 40-acre parkland area, and Merriweather Post Pavilion, a renowned music and community venue that's hosted various artists, including Jimi Hendrix, Willie Nelson, Foo Fighters and Florence + The Machine. Also touted as the "heart and soul" of the third city between Baltimore and Washington D.C., this area is part of The Howard Hughes Corporation's long-term renaissance vision for downtown Columbia.
The JLL Capital Markets team representing the borrower was led by Mark Gibson, Jamie Leachman, Drake Greer and Jackson Cabot.
 "The Marlow will be yet another transformational project to this master planned community within Columbia," said Leachman. "Howard Hughes' commitment to its long-term vision coupled with more and more liquidity returning to the market on a weekly basis was reflected in the strong response from the lending community through marketing process."
JLL Capital Markets is a full-service global provider of capital solutions for real estate investors and occupiers. The firm's in-depth local market and global investor knowledge delivers the best-in-class solutions for clients—whether investment sales advisory, debt placement, equity placement or a recapitalization. The firm has more than 3,700 Capital Markets specialists worldwide with offices in nearly 50 countries.