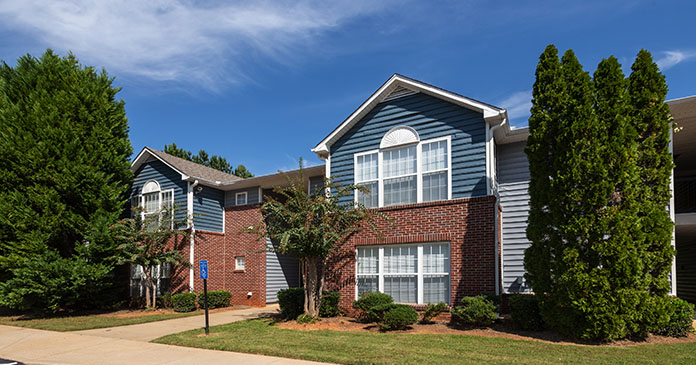 Cushman & Wakefield announced that the commercial real estate services firm has arranged the sale of four multifamily properties totaling 747 units in Alabama and Georgia. The final sale price was $67.5 million.
Craig Hey, Jimmy Adams, Tyler Averitt and Nathan Swenson of Cushman & Wakefield represented the seller, a joint venture between Blue Magma Residential and the Auerbach Opportunity Fund I, LP, in the transactions.
"The Southeast 747 Portfolio highlights the breadth of Cushman & Wakefield's capabilities by executing four closings in different tranches across multiple states," Hey said. "The portfolio garnered interest from individual and portfolio buyers across the country. The buyers are each going to execute value-add campaigns and were drawn to the growth and per unit pricing in secondary and tertiary markets within the Sunbelt."
Peter Auerbach, Managing Partner of Auerbach Funds added "Our partnership with the Blue Magma team worked out as well as could be planned. To not only improve the value of the assets, but also lives of the tenants and the communities at large, makes our function as a steward of capital all the more rewarding. The Team at Cushman & Wakefield was organized, aggressive, and insightful, and we look forward to many more transactions with this group."
Lurin Capital acquired Park at Bellingham & Summerhill, located in the highly sought-after market of Huntsville, Alabama. Built in 1985 and 1986, the apartment communities total 375 units and are poised for significant growth via value-add.
InterCapital Group acquired Park at Arlington, located in Covington, Georgia, along the Interstate 20 corridor east of Atlanta, which continues to experience growth and capital investments. The 188-unit apartment community was built in 2001.
Adar Property Group acquired Park at Ashburn, located in Dothan, Alabama, in a premier submarket near Dothan's retail epicenter and upscale neighborhoods. The 184-unit apartment community was built in 1974.
Cushman & Wakefield's Sunbelt Multifamily Advisory Group ranks No. 1 in Sunbelt market share based on over 250 transactions and $6.2 billion in multifamily and land investment sales in 2020 (Source: Real Capital Analytics). Market share reflects number of sales for Alabama, Arkansas, Northwest Florida, Georgia, Kentucky, Louisiana, Mississippi, North Carolina, South Carolina, Tennessee and Texas.