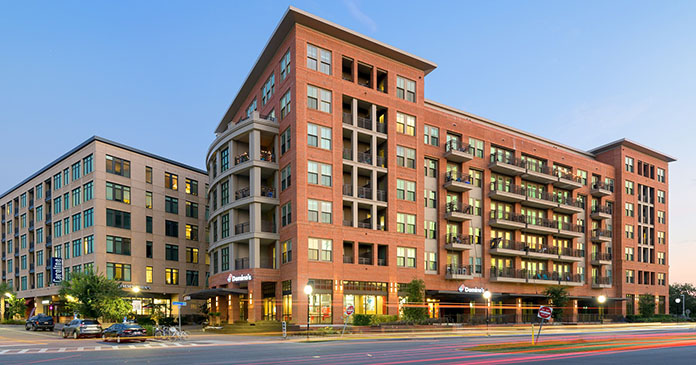 Cushman & Wakefield announced that the commercial real estate services firm has arranged the sale of Caroline, a 237-unit apartment community located in Charleston, South Carolina.
Robert Stickel, Marc Robinson, Tai Cohen, and Alex Brown of Cushman & Wakefield represented the sellers, South City Partners, ELV Associates Inc. and Gateway Development, in the transaction. Fairfield, an owner, developer and property manager among the most experienced multi-family real estate operating companies in the United States, acquired the property.
"Caroline was a pioneering development with thoughtful design and was extremely well-received by both renters and investors," Stickel said. "Despite the pandemic, the property's recent leasing has been extremely strong. Numerous institutional investors were eager for the opportunity to acquire this asset."
Amenities include a club room with monthly resident socials, community bicycles and bicycle storage, community paddle boards and kayaks, a fitness club with cardio and cross training, a luxury clubroom with catering kitchen, a pet spa, a saltwater pool, a yoga room and street level retail and restaurants. Built in 2018, Caroline caters to the affluent demographics attracted to the lifestyle of living on the bustling Charleston peninsula.
"South City Partners has a solid track record of creating an enjoyable living experience and a positive contribution to the community," Stickel added. "Fairfield saw this as an excellent opportunity to re-enter the Charleston market."
Caroline is strategically situated within the new 50-acre urban, waterfront WestEdge District, which has a projected impact of 4,280 new jobs and 2,500+ residents upon completion.
"With its WestEdge location and adjacency to Charleston's Medical District, Caroline offers its residents thousands of proximate jobs and walkable entertainment while remaining insulated from new supply," Cohen said.
Cushman & Wakefield's Sunbelt Multifamily Advisory Group ranks No. 1 in Sunbelt market share based on over 250 transactions and $6.2 billion in multifamily and land investment sales in 2020 (Source: Real Capital Analytics). Market share reflects number of sales for Alabama, Arkansas, Northwest Florida, Georgia, Kentucky, Louisiana, Mississippi, North Carolina, South Carolina, Tennessee and Texas.