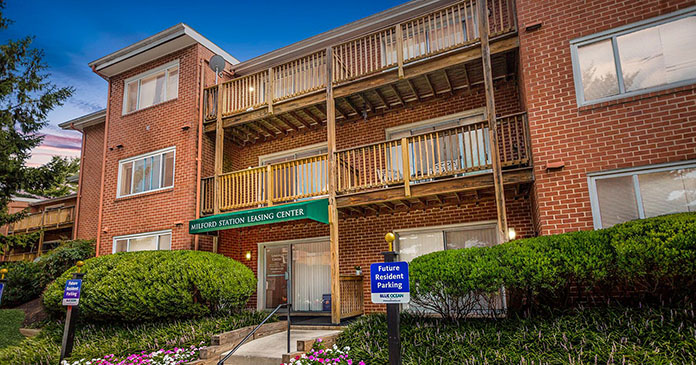 Transwestern Real Estate Services (TRS) announces its Mid-Atlantic Multifamily Group has brokered the sale of Milford Station Apartments, a 200-unit, value-add investment property at 19 Warren Park Drive in Pikesville, Maryland. Real estate investment firm Blue Ocean sold the garden-style asset to GELFUND Real Estate Opportunities, a residential private equity fund, for $30 million, or $150,000 per unit. Transwestern Executive Vice Presidents Dean Sigmon and Robin Williams, Vice President Justin Shay, and Senior Associate Michael D'Amelio represented the seller in the transaction.
"Milford Station is a smart investment for Gelfund," said Williams. "The asset is well located in a dynamic market and provides the ability to maximize value through strategic capital improvements."
Located adjacent to the historic Ralston neighborhood, the community is within walking distance to Milford Mill Metro Station and provides convenient access to I-695 and surrounding retail, education, and employment centers.
The property is undergoing an interior renovation program to update cabinets, appliances, countertops, and flooring, and to add unit washers and dryers. The buyer plans to renovate the pool house into an amenity center with a state-of-the-art gym and construct a new leasing office adjacent to Milford Mill Road. Upon completion, these capital improvements will attract new residents by elevating Milford Station's position in a competitive market where modern apartments are in high demand.
"Our group continues to see strong interest for value-add properties throughout the Baltimore and Washington regions," said Sigmon. "Currently, we have more than $160 million in multifamily assets scheduled to close in the Baltimore area this summer."
According to a first quarter 2021 report from Delta Associates, Transwestern's research affiliate, stabilized vacancy in the Baltimore metro area decreased 260 basis points from 5.8 percent a year ago to 3.2 percent. The basis-point decrease in vacancy was equal between the suburbs and Baltimore city.
Transwestern's Mid-Atlantic Multifamily Group provides a full range of investment sales services throughout Washington, D.C., Northern Virginia, Richmond, Baltimore, and Delaware. The group's recent client roster includes Sentinel Real Estate, Federal Capital Partners, Foulger Pratt with DLJ, Hampshire Properties, Aimco, Avalon Bay, Equity Residential, The Bozzuto Group, Fannie Mae, AIG Investment, Morgan Properties, Goldman Sachs, JP Morgan and Angelo Gordon.