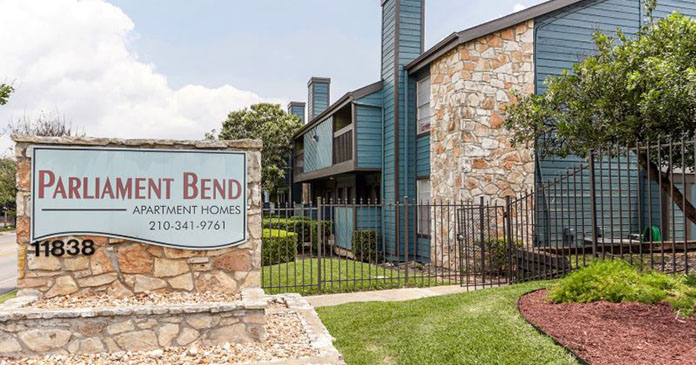 JLL Capital Markets announced it has arranged a $11.5 million  preferred equity for the  Park West Apartments and Parliament Bend Apartments, two contiguous multihousing complexes in the Churchill submarket of San Antonio, Texas.
JLL worked on behalf of the borrower, a joint venture between Old Three Hundred Capital LLC, an Austin private-equity real estate firm, and Chicago-based Pearlmark Real Estate, to secure the preferred equity through Brasa Capital Management. Old Three Hundred and Pearlmark are co-sponsoring the deal and assumed the existing CMBS note, with both firms providing an undisclosed amount of JV equity, and Brasa bringing the $11.5 million in preferred equity to fill out the capital stack.
Built in 1979, the Park West Apartments are located at 11845 West Ave. and consists of 327 one- and two-bedroom apartments.
Located at 11838 Parliament St., the Parliament Bend Apartments were built in 1982 and consists of 232 one- and two-bedroom apartments. Apartment amenities include a balcony, dishwasher, air conditioning and flooring upgrade, along with community amenities, featuring a volleyball court, swimming pool, new luxury fitness center, basketball court, playground, business center and a clubhouse.
"As a 1980's-vintage product, the properties have a lot of value-add potential, while still possessing good bones," said Nicholas Yarnall, Co-Managing Partner of Old Three Hundred Capital. "We are looking forward to working with Pearlmark on executing our value-add strategy, which will include major upgrades to the properties' common areas and amenities, as well as interior finish-outs."
The new ownership plans to rebrand and refresh both apartment complexes, with more than $2 million in planned improvements at Parliament Bend and close to another $4 million in planned upgrades for Park West.
"We're excited to add two properties in a high-growth area of the San Antonio market, for substantially below the market rate price, and with great potential for further upside after completion of our renovation program," added William Gottfried, Co-Managing Partner at Old Three Hundred Capital. "This was a complex deal to put together and execute, and all the parties involved worked extremely well together."
The JLL Capital Markets team representing the borrower was led by Senior Directors Marko Kazanjian and Chris McColpin and Analyst Andrew Cohen.
"We are excited to continue our successful partnership with Old Three Hundred Capital and view the company as having an excellent read on the San Antonio market," said Kazanjian. "These properties are positioned to provide significant long-term value and add to the firm's already successful track record. We look forward to working with Old Three Hundred as they grow their portfolio in Central Texas."
JLL Capital Markets is a full-service global provider of capital solutions for real estate investors and occupiers. The firm's in-depth local market and global investor knowledge delivers the best-in-class solutions for clients—whether investment advisory, debt placement, equity placement or a recapitalization. The firm has more than 3,700 Capital Markets specialists worldwide with offices in nearly 50 countries.