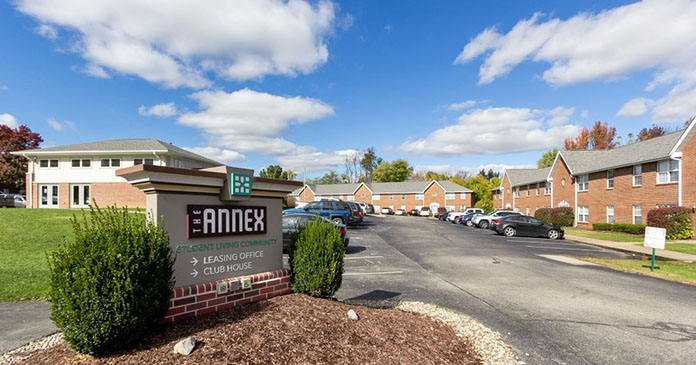 JLL Capital Markets announced it closed the $11.85 million sale of The Annex of New Albany, a garden-style multihousing property located in New Albany, Indiana, a suburb situated near the state's border and just miles from Louisville, Kentucky.
JLL represented the seller, The Annex Group, to complete the sale to the buyer, Zidan Management Group.
The Annex totals 113,782 rentable square feet, nine buildings and consists of 141 studio, one-, two- and three-bedroom units. The apartments also feature community amenities, such as a clubhouse with resident lounge, flat screen TV and kitchen and a 24-hour fitness center.
The property is located at 4100 Prestwick Square in Wayne County, Indiana. New Albany is situated along the Ohio River, contains 37,000 residents and is home to Indiana University Southeast, a 180-acre campus that has a student body of 5,000. The Annex also benefits from its access to major employers, including UPS and Ford Motor Company in Louisville, employing over 37,000, and its growing economy of over 625,000 residents.
The JLL Capital Markets team representing the seller was led by Managing Director David Gaines, Senior Director Scott Clifton, and Director Kyle Butler.
"We continue to see private capital investors make long term "bet-on-America" buys across the Midwest for prime multi-housing opportunities like The Annex of New Albany," said Gaines. "These groups seek to acquire in strong markets like the Louisville MSA with favorable demographic trends and a strong employment base. Multihousing real estate assets like these are tax-efficient investments distinguished by low volatility, predictable cash flow and attractive yields, which makes them highly desirable as alternative investment options."
This is the fourth multihousing real estate asset added to Zidan's portfolio this year. Zidan recently added Barton Farms, a 262-unit community and Bexley Village, a 276-unit community, both in Greenwood, Indiana; as well as, Camelot East, a 492-unit community located in Fairfield, Ohio.
"We will grow our Midwest market presence by more than 25 percent this year," says Raed Zidan, President of Zidan Management Group. "With above-average population growth rates, there is a growing demand for apartment-style living. The future is bright."
JLL Capital Markets is a full-service global provider of capital solutions for real estate investors and occupiers. The firm's in-depth local market and global investor knowledge deliver best-in-class solutions for clients—whether investment sales advisory, debt placement, equity placement, or a recapitalization. The firm has more than 3,700 Capital Markets specialists worldwide with offices in nearly 50 countries.