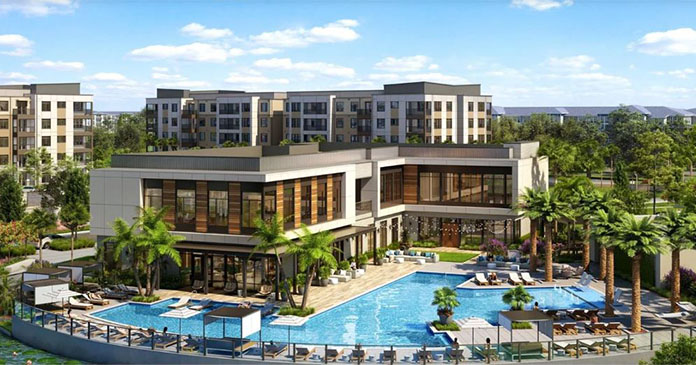 JLL Capital Markets announced it secured a $61 million construction loan and preferred equity for the Infield Apartments, a multihousing development located in Kissimmee, Florida, just south of Orlando.
JLL worked on behalf of the borrower, The Latigo Group, to secure the construction financing through an insurance company and a publicly traded REIT. JLL was able to secure the structuring of an optimal senior and preferred equity solution for the development.
This is the second multihousing development project JLL has capitalized for The Latigo Group this year. Earlier this year, JLL secured construction financing for The Latigo Group to build Lynwind at Championsgate, a luxury multihousing property also located in the greater Orlando area.
The Class A Infield Apartments development will consist of 384 one-, two- and three-bedroom unit options, ranging from 699 to 1,354 square feet. The property will include resort-style amenities, such as a clubhouse, dry sauna, golf simulator, lakefront pool, state-of-the-art fitness center and yoga studio. The property sits on 25 acres, totals 491,578 square feet and will consist of 654 parking spaces.
Located at 1900 Ball Park Rd., the Infield Apartments will be positioned in one of Orlando's most sought-after submarkets, with the resident population within a 20-minute drive of the property expecting to grow 3 percent every year for the next five years. Additionally, the property has direct access via SR 417, the Turnpike, U.S. 192 and W. Osceola Parkway to Orlando's various retail, dining and entertainment amenities, such as Walt Disney World and Universal Studios. In addition, the property is proximate to nearby major employers and a projected pipeline of over 16,600 new jobs coming to the area within the next several years, including its booming healthcare and engineering scenes.
The JLL Capital Markets team representing the borrower was led by Director Bercut Smith, Senior Director Tarik Bateh and Senior Managing Director Charles Halladay.
Smith said, "The Infield Apartments will be an excellent addition to the Latigo Groups growing footprint in Florida. There isn't a property in the Kissimmee submarket that will be able to compete with Infield's amenities, and we expect that to lead to an accelerated lease-up."
JLL Capital Markets is a full-service global provider of capital solutions for real estate investors and occupiers. The firm's in-depth local market and global investor knowledge deliver best-in-class solutions for clients—whether investment sales advisory, debt placement, equity placement, or a recapitalization. The firm has more than 3,700 Capital Markets specialists worldwide with offices in nearly 50 countries.