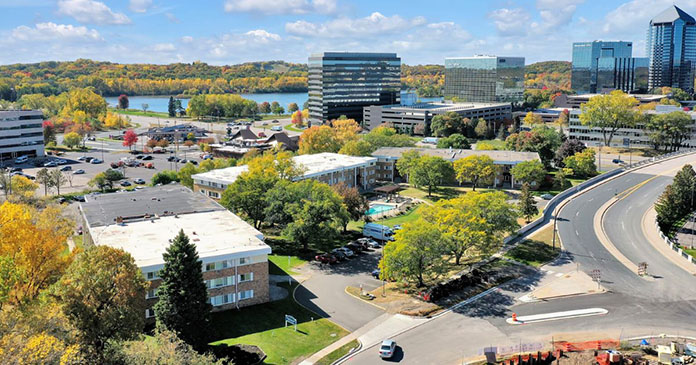 JLL Capital Markets announced it closed the $16.45 million sale of Normandale Lake Estates, a 105-unit multihousing property located in Bloomington, Minnesota.
JLL worked on behalf of the seller, Normandale Lake, LLC, to complete the sale to the buyer, Dealer Sites, LLC.
The Normandale Lake Estates were built in 1964. Since, 100 percent of the units have been renovated with new cabinets, granite counters, tiled backsplashes, plank flooring and more. The site totals more than six acres and 85,070 rentable square feet. The property's unit mix includes one- and two-bedroom apartments and community amenities, such as a pet play area, outdoor pool and courtyard with grilling area.
Normandale Lake Estates offers tenants excellent connectivity throughout the greater Twin Cities with its proximity to several major highways and Interstates providing residents access to quality employment, including the headquarters of Best Buy, Holiday Station stores, Dairy Queen and The Toro Company, all within four miles of the property. Bloomington is also home to the largest Class A suburban office park in Minnesota, Normandale Lake Office Park, which is located across the street from the property and offers current and future residents' access to over 90 different companies. The Park is a five-building, 1.7-million square foot office complex situated on 27 acres adjacent to a 2500-acre recreational area including Normandale Lake.
The JLL Capital Markets team representing the seller was led by Senior Directors Mox Gunderson, Josh Talberg and Dan Linnell and Director Adam Haydon. 
"Normandale Lake Estates is and has been 100 percent occupied for some time, largely due to its tremendous location providing tenants unbelievable access to jobs and entertainment," said Gunderson. "The buyer was in a 1031 exchange and saw potential in Normandale to provide long term, reliable cash flow. This was their first purchase in the Twin Cities."
JLL Capital Markets is a full-service global provider of capital solutions for real estate investors and occupiers. The firm's in-depth local market and global investor knowledge deliver best-in-class solutions for clients—whether investment sales advisory, debt placement, equity placement, or a recapitalization. The firm has more than 3,700 Capital Markets specialists worldwide with offices in nearly 50 countries.