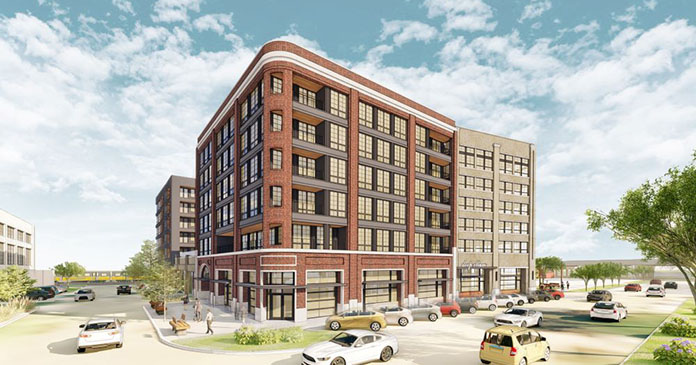 JLL Capital Markets announced it closed on the capitalization of The Willow, a 190-unit multihousing development located in the rapidly growing Deep Ellum micromarket of Dallas, Texas, on behalf of the developer, Larkspur Capital LP.
Situated along the Santa Fe Trail, The Willow will total 171,575 rentable square feet in an eight-story building, consist of five levels of units and three levels of concrete parking. In addition to traditional units, the property will offer live-work units along the ground level that feature loft-style bedrooms above work areas. Given increasing tenant demand for outdoor space, community amenities include an elevated infinity-edge pool with breathtaking downtown views, a rooftop sky lounge on top of the eighth level, indoor/outdoor co-working space featuring workstations and Zoom rooms, a fitness center, bike workshop and coffee bar.
The project has entered into a long-term lease with Dallas Area Rapid Transit to build an outdoor park for residents along an adjacent former rail spur designed by notable landscape architect Shane Garthoff of Garthoff Design.
Larkspur Capital engaged renowned architectural firm, OMNIPLAN, Inc., to help execute the firm's innovative vision for the project. Led by designer Stephen Lohr, the focus was to design a building that respected the significant architectural context and history of Deep Ellum while also incorporating the contemporary elements that tenants demand.
Located at 3900 Commerce Street, The Willow is positioned on the east end of Deep Ellum. Targeting Millennial and Generation Z demographics, the development will benefit from its prime location in Deep Ellum, the live music capital of Dallas. Since emerging from the Great Recession, Deep Ellum has experienced a dramatic transformation as a top destination as a result of consolidated institutional ownership, a very active Deep Ellum Foundation, significant municipal investment, and consumer demand for a true live-play-work environment in the city center.
Founded in 2011, Dallas-based Larkspur Capital is led by Carl B. Anderson IV and focuses on developing architecturally significant real estate in irreplaceable urban core locations. The Willow represents the firm's second Qualified Opportunity Zone development.
"The Willow is a perfect archetype of Larkspur's focus on building interesting projects in truly walkable, urban environments," Carl Anderson, Principal at Larkspur, said.  "We're excited at the post-Covid momentum taking place across retail, office, and multihousing assets in Deep Ellum and look forward to contributing to the neighborhood for the long term."
The Dallas/Fort Worth area continues to lead as the largest apartment market in Texas, with an inventory of over 820,000 units, with the area absorbing an impressive 97,920 units over the last five years alone. Dallas/Fort Worth's tremendous growth has also been projected to add over 461,000 more residents and over 109,000 more jobs from 2019 to 2023, due to the area's high quality of live and leading business environment.
The JLL Capital Markets team representing the developer was led by Clint Coe, Will Mogk and Greg Toro. 
JLL Capital Markets is a full-service global provider of capital solutions for real estate investors and occupiers. The firm's in-depth local market and global investor knowledge deliver best-in-class solutions for clients—whether investment sales advisory, debt placement, equity placement, or a recapitalization. The firm has more than 3,700 Capital Markets specialists worldwide with offices in nearly 50 countries.