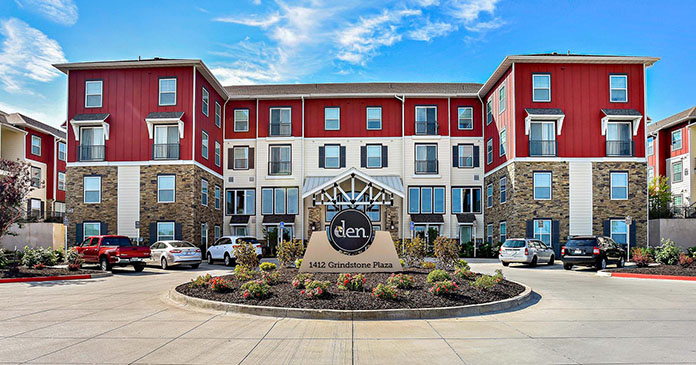 Transwestern Real Estate Services (TRS) announces it has brokered the sale of The Den, a 552-bed student housing community at 1412 Grindstone Plaza Drive in Columbia. Transwestern Senior Managing Directors Mike McGaughy and Jon Kleinberg arranged the sale on behalf of the owner to Hamilton Point Investments LLC for an undisclosed price.
"By combining our expertise in student housing and conventional multifamily with our extensive track record in opportunistic value-add assets, we broadened the investment pool to attract interest from groups that typically don't buy student housing," said Kleinberg. "The alternative investors we work with were drawn to the deal's higher return fundamentals and opportunity to purchase a well-performing asset well below replacement cost, which allowed us to maximize value for the seller."
Serving students at the University of Missouri (Mizzou), The Den is a 158-unit housing community with 552 beds. The development, situated two miles from Mizzou's south campus, includes four buildings on 9.6 acres with 560 parking spaces and an average unit size of 1,248 square feet. Completed in 2014, the property has enjoyed historically high occupancy due to its thoughtful design, features and amenities.
"Demonstrating its market-leading appeal, The Den was 93 percent occupied and substantially ahead of last year's pre-leasing figures at the time of sale," said McGaughy. "The stabilized asset provides a competitive value-add component for new ownership to increase rents that are below the market by capitalizing on the property's Class A attributes."
The Den's well-designed floorplans come fully furnished and feature spacious living areas that maximize square footage. Enhanced community features include a heated pool with expansive sundeck, a state-of-the-art clubhouse, conference rooms, outdoor entertainment spaces, and an assortment of areas to play sports and games.
Balke Brown Transwestern COO Mike Donovan partnered with Transwestern's Southeast Investment Sales team on the transaction.