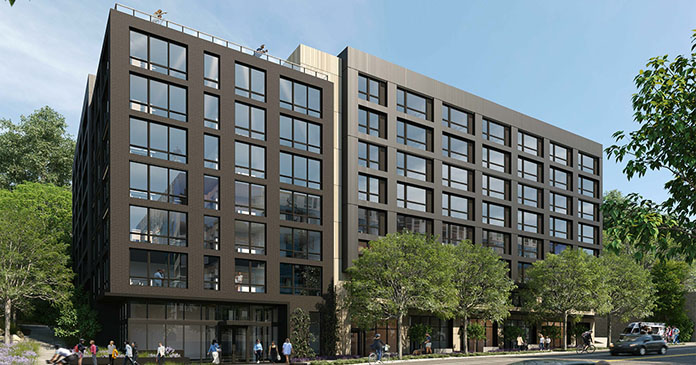 A prime South Lake Union apartment development site sold for $10.25 million in a transaction structured by Kidder Mathews. It is located at 1405 Dexter Avenue North in Seattle, Washington.
Dylan Simon, Jerrid Anderson, and Matt Laird of The Simon and Anderson Team, a multifamily investment team based in Kidder Mathews' Seattle headquarters, represented the seller and were the only brokers involved in the transaction. The buyer is Pastakia & Associates.
Pastakia & Associates finalized entitlements and permitting for the eight-story apartment development site for 160 units with structured parking in 62 parking stalls. The completed building will have waterfront, downtown, and terrestrial views. A large mural on the north façade helps further define the building's design concept of Borealis.
"We want to thank both buyer and seller for an extremely smooth transaction," says Simon. "Over the last decade, this property passed through the hands of several owners, and the buyer envisioned the property for a truly market-defining development. Despite challenges in the Seattle apartment market during 2020, Pastakia's clear vision on South Lake Union and Dexter as an exceptional apartment market prevailed, and this project will set a new standard for the submarket."