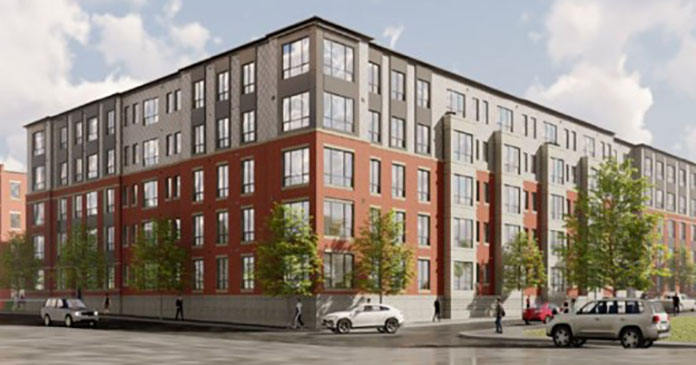 MassHousing has closed on approximately $19 million in affordable and workforce housing financing to Trinity Financial, Inc., which is developing the 111-unit Phase Two of the Enterprise Center in Downtown Brockton for residents with a wide range of incomes.
The MassHousing financing will allow Trinity Financial to complete the redevelopment of the Enterprise Block and deliver a total of 224 new rental homes to Brockton's downtown. The project's first phase opened in 2015.
"The continued redevelopment of the Enterprise Block will provide dozens of new households with quality housing and economic opportunities in downtown Brockton, just steps from a regional transit hub," said MassHousing Executive Director Chrystal Kornegay. "Trinity Financials' Enterprise Center project has revitalized an important and historic part of Brockton, and MassHousing was pleased to join our city, state and private-sector partners in supporting this transformative project."
"Trinity Financial is proud to continue our work in downtown Brockton. The success of a project like this depends on a strong team, and in MassHousing, DHCD, Bank of America, BlueHub Capital, and the City of Brockton we have partners of unmatched strength. The resurgence of Brockton is in good hands," said Trinity Financial Managing Director Kenan Bigby.
"I would like to thank Chrystal Kornegay at MassHousing and Trinity Financial for their continued investment in downtown Brockton. The Enterprise Center is an important element to investing in new workforce housing and will introduce additional revenue and breathe new life into this vital area of Brockton," said Senator Michael D. Brady.
MassHousing supported the second phase of the Enterprise Center by providing Trinity Financial with approximately $19 million in financing, including $8.2 million in permanent financing, $9.6 million in tax-exempt bridge financing, and $1.2 million from the Agency's Workforce Housing Initiative. Phase Two of the Enterprise Center is being developed with two financing transactions involving the use of four-percent and nine-percent Low Income Housing Tax Credits.
Other financing sources included a total of $30.6 million in state and federal tax credit equity allocated by the Massachusetts Department of Housing and Community Development (DHCD), approximately $3.5 million in direct support from DHCD, and approximately $3.5 million from the Affordable Housing Trust Fund, which MassHousing manages of behalf of DHCD. Bank of America will provide construction financing and is the tax credit investor.
When complete, Phase Two of the Enterprise Center will provide new housing to residents across the income spectrum, from very-low income households to market-rate households. Of the 111 new apartment homes to be constructed in the new five-story building, 12 will be restricted to households earning at or below 30 percent of the Area Median Income (AMI), one unit will be for a household earning up to 50 percent of AMI, 33 units will be for households earning up to 60 percent of AMI. Twelve of the new apartments will be workforce housing units for households earning up to 80 percent of AMI, and 53 apartments will be rented at market rates. The Area Median Income for Brockton is $106,000 for a household of four.
There will be 65 one-bedroom apartments, 42 two-bedroom apartments and four three-bedroom apartments. The new building, which will be built on a lot at 45 Petronelli Way across from the city's commuter rail station, will also feature ground floor community space and a fitness area, and an outdoor plaza with other recreational spaces for grills and fire pits.
The Enterprise Center advances the Baker-Polito Administration's goal of creating at least 1,000 new workforce housing units affordable to middle-income households through MassHousing's Workforce Housing Initiative. Since the inception of the initiative in 2016, MassHousing has committed or closed workforce housing financing totaling $116.5 million, to 54 projects, located in 22 cities and towns. To date, the Workforce Housing Initiative has advanced the development of 4,669 housing units across a range of incomes, including 1,308 middle-income workforce units.
MassHousing provided $1.75 million from the Affordable Housing Trust Fund for the first phase of the Enterprise Block redevelopment – the 113-unit Residences at Centre and Main – at the site formerly occupied by the Brockton Enterprise newspaper. The four-story building is comprised of 71 affordable and 42 market-rate units, and the project also involved 65,000 square feet of commercial, retail and artist exhibition space, a parking garage, green space, and a restored park honoring Korean War and Vietnam War veterans.
The general contractor for Phase Two will be Aberthaw Construction Company, Inc. The architect is ICON Architecture, Inc. and the management agent is Trinity Management LLC.
MassHousing has financed 11 rental housing communities in Brockton totaling 1,866 units and $91.4 million in overall financing. The Agency has also provided home mortgage loans to    1,900 homebuyers and homeowners in Brockton with an original purchase principal balance of $263.9 million.