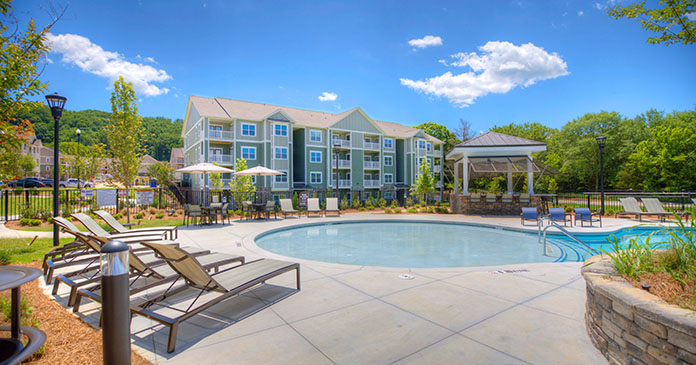 Capital Square 1031, a leading sponsor of Delaware statutory trust (DST) offerings for 1031 exchange and other accredited investors, announced today the acquisition of Lullwater at Big Ridge, a 250-unit multifamily community in the Hixson submarket of Chattanooga, Tennessee. The property was acquired for CS1031 Lullwater at Big Ridge Apartments, DST, a Reg. D private placement.
"Chattanooga was recently ranked number one for employment outlook by Forbes magazine, in part due to its exceptional location just 130 miles from Atlanta and Nashville," said Louis Rogers, founder and chief executive officer. "The city is well-known for healthcare, manufacturing, education, technology and tourism and was named 'Gig City' for its 10-gigabit-per-second fiber internet services. These attributes position Chattanooga as the next booming city, similar to Nashville or Austin."
Located at 6038 Hixson Pike, the gated community was constructed in 2020 and is the newest apartment community in the Hixson submarket. Lullwater at Big Ridge is comprised of one-, two- and three-bedroom units ranging in size from approximately 1,028 square feet to 1,432 square feet. The community features floorplans that have large open kitchens with wraparound granite countertops, faux wood vinyl flooring and stainless-steel appliances.
Community amenities include a dog park, resort-style pool with outdoor kitchen and firepit, clubhouse with lounge, media room, conference room, business center and fitness center. Additional amenities include a secure package delivery locker room, a car care center and 30 detached garages as well as 21 storage units available to rent.
CS1031 Lullwater at Big Ridge Apartments, DST seeks to raise $27.9 million in equity from accredited investors and has a minimum investment of $50,000.
"Lullwater at Big Ridge is a particularly attractive asset, not only because it is the newest multifamily community in the submarket, but also because it features large apartment units and unique interior finishes," said Whitson Huffman, chief strategy and investment officer. "The community is well-located off of Hixson Pike, providing residents convenient access to nearby employment hubs as well as a Publix-anchored shopping center just one street away."
Since its founding in 2012, Capital Square has acquired 131 real estate assets for over 3,000 investors seeking quality replacement properties that qualify for tax deferral under Section 1031 of the Internal Revenue Code and other investors seeking stable cash flow and capital appreciation.