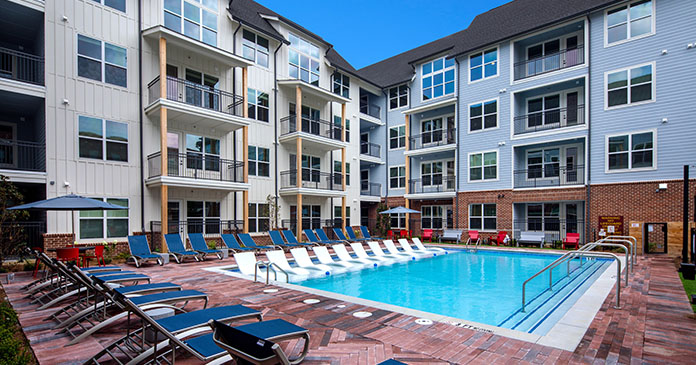 Cushman & Wakefield announced that the commercial real estate services firm has arranged the sale of Broadstone Junction, a 290-unit apartment community located in Norcross, Georgia, a suburb northeast of Atlanta.
Robert Stickel and Alex Brown of Cushman & Wakefield represented the sellers, Alliance Residential Company and The Carlyle Group, in the transaction. Brass Enterprises, a Canada-based multifamily acquisition company, acquired the property.
"We are very excited about the acquisition of Broadstone Junction," Aryeh Berger, Vice President of Acquisitions at Brass Enterprises. "It's a premier asset in one of the nation's strongest and fastest-growing markets. The location provides a great blend of suburban living without sacrificing on centrality and proximity to job hubs and lifestyle amenities. Broadstone Junction has a desirable amenity set and is definitely well positioned to be an in-demand asset as the area continues to attract more renters."
Built in 2021, Broadstone Junction is located within the Historic Town Center of Norcross. The property demonstrated its desirability by capturing impressive leasing velocity of 25 leases per month since September, while substantially increasing market rents. Amenities include a fitness center, clubhouse, bark park, bike storage, a yoga studio, pat spa, swimming pool and mezzanine library.
"Alliance successfully developed a unique community including two adaptive reuse buildings and two newly built structures which are walkable to historic Norcross and local parks and green spaces," Stickel said.
"Brass Enterprises, a well-known Canadian real estate firm, was eager to expand its portfolio and enter the Atlanta market and did so with strong relationships as well as speed and certainty," Brown said.
Cushman & Wakefield's Sunbelt Multifamily Advisory Group ranks No. 1 in Sunbelt market share based on over 250 transactions and $6.2 billion in multifamily and land investment sales in 2020 (Source: Real Capital Analytics). Market share reflects number of sales for Alabama, Arkansas, Northwest Florida, Georgia, Kentucky, Louisiana, Mississippi, North Carolina, South Carolina, Tennessee and Texas.