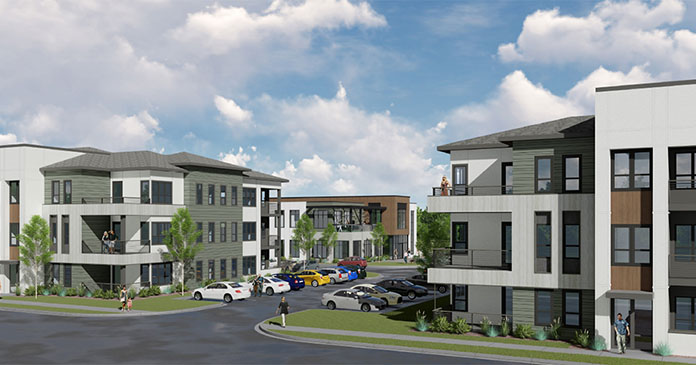 JLL Capital Markets announced that it has arranged $43 million in structured construction financing for the development of Winslow Crane Apartments, a 203-unit, Class A, garden-style multihousing community in the Denver-area community of Englewood, Colorado.
JLL represented the developer, Saunders Commercial Development Company, to secure a $34.40 million senior construction loan through a local bank. Additionally, JLL placed $8.55 million in preferred equity through an insurance company.
Winslow Crane Apartments will feature unparalleled amenities and finishes. Once completed in 2022, the three-story property will consist of one- and two-bedroom units ranging from 546 to 1,573 square feet along with 92 garage parking spaces and 219 surface parking spaces.
Located at 3002 South Huron St., the community offers easy access to a wide variety of nearby amenities, including more than 490,000 square feet of local and national retailers, some of the area's top restaurants, popular entertainment venues, and outdoor areas such as the Gothic Theatre and the South Platte River Trail. The Englewood submarket offers residents an affordable, value-oriented alternative to downtown Denver, and the area has consistently ranked among the top-performing submarkets throughout the metro area. Winslow Crane Apartments is just north of the convergence of US-85 and Hampden Avenue, allowing for phenomenal visibility and access to both the broader southern metro area and downtown Denver. The property is also just a few minutes' walk from the Englewood RTD Light Rail Station, providing residents unrivaled optionality for a commute to the greater Denver area.
The JLL Capital Markets debt and equity team that represented the developer was led by Managing Director Leon McBroom and Senior Managing Director Eric Tupler.
"We had numerous local, regional and national banks show interest on the bank senior," McBroom said. "We also had a deep pool of groups interested in the preferred equity. The Denver multihousing market fundamentals are on fire, and lenders are very active lending on multihousing construction opportunities."
JLL Capital Markets is a full-service global provider of capital solutions for real estate investors and occupiers. The firm's in-depth local market and global investor knowledge delivers the best-in-class solutions for clients—whether investment advisory, debt placement, equity placement or a recapitalization. The firm has more than 3,700 Capital Markets specialists worldwide with offices in nearly 50 countries.