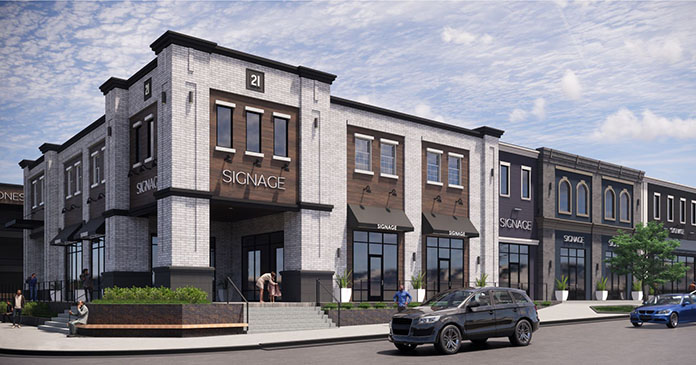 PCCP, LLC announced that it has provided a $29 million construction loan to Rockworth Companies for the development of TwentyOnes, a 108-unit urban infill multifamily project with 20,500 square feet (sf) of ground floor retail located at 2041 S and 2100 E in Salt Lake City, UT. The site is located in the Sugar House submarket, one of the oldest and most established neighborhoods in the metro area and is less than 15 minutes southeast of downtown Salt Lake City.
With construction anticipated to complete in the first quarter of 2023, TwentyOnes will encompass two buildings on a 2.5-acre site. One building will feature ground floor retail with second floor residential and both buildings will provide elevatored access to a subterranean garage. The property will provide residents with a boutique living experience and Class A amenities including a rooftop deck, patio/lounge areas, and a clubhouse. The unit mix of studios (21 percent), one bedroom (56 percent) and two bedrooms (23 percent) will average 729 sf and units will be built with high quality finishes, such as wood plank-style flooring, quartz countertops, custom cabinetry and walk-in closets, and smart home packages. Select units will have private balcony or patio access.
"Rockworth Companies is a repeat borrower with PCCP and is an experienced developer in the Salt Lake metropolitan area," said Alexandra Schultz, Vice President at PCCP. "We saw this as a compelling opportunity to provide a construction loan for a high-quality project in a region that has experienced exceptional job and population growth over the past decade."
TwentyOnes is proximate to outdoor amenities, such as the 110-acre Sugar House Park, various trails, and numerous ski resorts just east in the Wasatch Mountain range. It is also located walking distance to Downtown Sugar House and the Sugar House Shopping Center, both major retail and dining nodes in the area and has easy access to the Fairmont Light Rail station, providing residents with convenient public transportation to downtown Salt Lake City.