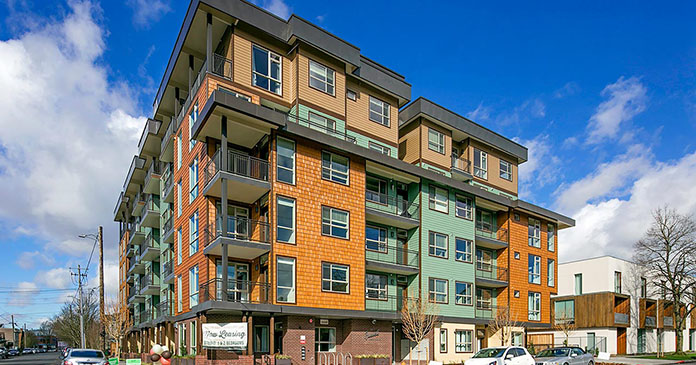 Trion Properties, a private equity real estate firm based in West Hollywood, California and Miami, Florida specializing in value-add multifamily investments, has announced the acquisition of The Russell Apartments, a 68-unit multifamily community in Portland, Oregon, for $19.7 million.
This acquisition is the first for Trion's third and newest Multifamily Opportunity Fund, bringing the firm's current Portland Metro portfolio to ten properties and allowing the team to further leverage economies of scale, according to Max Sharkansky, Managing Partner at Trion Properties.
"As recent zoning changes take place in Portland, there has been a lack of supply and increased demand for quality apartment communities, positioning the property as a stand-out in the region," says Sharkansky. "While our typical strategy is to acquire multifamily product of older vintages and implement light-to-moderate value-add renovations, we identified The Russell as a rare opportunity to add this extremely well-located and modernized asset that was built in 2017 to our portfolio."
Last year, Oregon ranked third out of the top ten inbound states, with the Portland Metro population growing by 30,000 residents, demonstrating strong growth fundamentals and increasing demand as businesses and residents from other West Coast markets such as California migrated to the Pacific Northwest.
Sharkansky adds: "The Russell offers an opportunity to acquire an asset with historically low-rate debt, which allowed us to step into strong going-in cash flow as we expand our Oregon portfolio, and is the only market-rate multifamily development to be completed within the last 20 years."
The property is situated less than three miles from downtown Portland with residents averaging six-figure annual household incomes from occupations ranging from the tech, healthcare, law, and engineering sectors, among others. The Russell is also conveniently located within one mile of 5 million square feet of retail and in close proximity to a number of grocers and top restaurants.
"In addition to the proximity to Downtown Portland, The Russell is also located within a short distance from Portland's Central Eastside and Lloyd District – the city's artistic and cultural center," states Farhan Mahmood, Managing Director of Acquisitions at Trion Properties. "The immediate Irvington neighborhood is tucked away on a quiet residential street, with direct access to some of Portland's best restaurants, retail, streets dawned with artistic murals, and the emergence of creative office due to new businesses moving in."
The LEED Green-certified complex features 25 different floorplans throughout its six stories, offering floor-to-ceiling windows with regional and Mount Hood views from select units. The Russell consists of spacious units that are 29% larger than the average newly built community in the region, giving the property a competitive advantage. Additional amenities include patio decks, modern finishes and full-size washers and dryers in each unit.
The property also offers residents an expansive roof terrace with barbecues and a firepit, a fitness center, club lounge, pet washroom, and secured bike storage.
Rob Marton and Tyler Johnson at HFO Real represented Trion in the transaction. Continental Partners arranged the financing through Andrew Kwok from Capital One.
The Russell is located at 2621 NE 7th Avenue in Portland, Oregon.