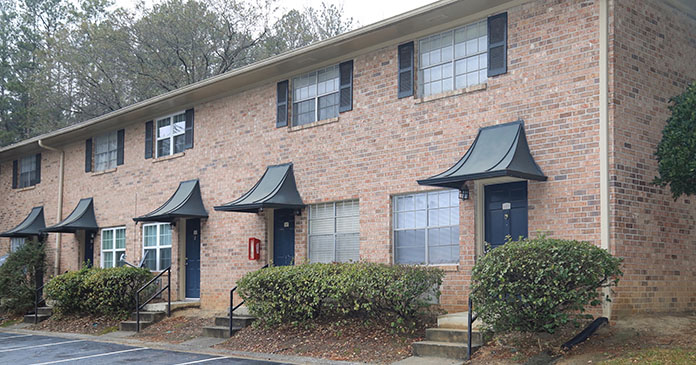 ZMR Capital (ZMR) has acquired Upland Townhomes (Upland), a 348-unit multifamily community in Atlanta, GA for $40.1 million.
Upland is ZMR's third acquisition in the Atlanta metro over the past three years and brings the Orlando-based real estate investment firm's Atlanta portfolio to just under 1,000 units. The company is looking to invest approximately $250 million in the Atlanta MSA over the next 24-36 months.
"As we've done in other key markets around the country, we're optimizing the relationships we have developed with local brokers and owners to help unearth attractive opportunities that will increase our footprint in Atlanta," said ZMR CEO Zamir Kazi. "The competition for Upland was extremely fierce and included a lot of large national players, but thanks to a strong existing relationship with the broker and the seller we were able to secure the property."
Located at 6850 Mableton Parkway, Upland offers a mix of one-, two-, and three-bedroom townhome-style apartments. With approximately half the homes have already been upgraded, ZMR plans a capital improvement program to update the remainder of the units. Planned upgrades include stone countertops, new cabinetry, upgraded lighting and plumbing fixtures, new vinyl plank flooring, and stainless appliances. Community improvements will include the addition of a new clubhouse that will include a business center and fitness center and upgrades to the playground, a dog park and grilling areas.
The property is located in the South Cobb submarket, an area that has seen virtually no new development of multifamily housing in more than 20 years. The lack of inventory, as well as the expansion of the Fulton Industrial Corridor that has brought an additional 30,000 jobs to the area, has created an even greater demand for quality affordable housing, according to Kazi.
"Business friendly cities like Atlanta will continue to see an influx of new residents from states like California and New York looking for a lower cost of living, including affordable housing options. Our goal is to be a provider of affordable options for renters in Atlanta and other growth markets across the country," Kazi said.